Pope beats Justin Bieber in re-tweets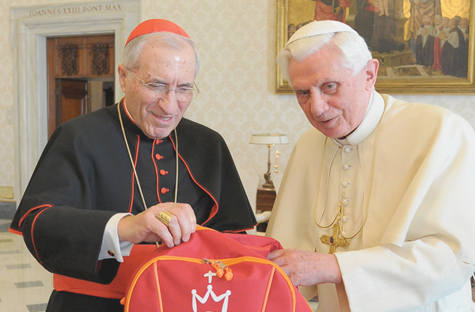 By John Stegeman
His Holiness Pope Benedict XVI is still fairly new to Twitter, but the pontiff has already set a record, beating out pop superstar Justin Bieber in re-tweets.
Reuters reports that while the Pope still trails Bieber in followers (the Holy Father has 2.1 million followers to Bieber's 32 million), the Vatican announced that Benedict's first tweet was re-tweeted by nearly half of his followers. By contrast, Justin Bieber's most popular tweet was re-tweeted by only .7 percent of his followers.
The 85-year-old Pope has been on Twitter for eight days. The 18-year-old Justin Bieber, by contrast, is a Twitter pro. The singer has more than 20,000 tweets, the spiritual leader of the world's 1.25 billion Catholics has 12.
The Vatican says that the Pope's growing influence on Twitter is a sign that people are seeking more spiritual content. The move to point out the record has drawn some criticism. Catholic Culture reports that some news outlets have accused the Pope of starting a "Twitter war" with Justin Bieber.
While the news, released by Silvia Guidi, a member of the editorial staff of L'Osservatore Romano, was certainly not intended to provoke any disputes, it does speak to the power of Twitter as a medium. After all, if some of Justin Bieber's 32 million Twitter followers become aware of the Pope's presence on the social media site, it could lead some of them to follow him and thus hear the message of the Church.
The Pope joined Twitter on December 12, writing, "Dear friends, I am pleased to get in touch with you through Twitter. Thank you for your generous response. I bless all of you from my heart."
Pope Benedict XVI's most recent tweet, sent December 21,offered prayers that the Church continue to strive to represent Christ on Earth.
"At the end of the year, we pray that the Church, despite her shortcomings, may be increasingly recognizable as Christ's dwelling place," the Pope tweeted.
Bieber's most recent tweet was a bit more simplistic. He tweeted December 20, "hope everyone is having a nice day."
Follow the Pope on Twitter at @pontifex. Follow The Catholic Telegraph at @CathTelegraph.