Pope Benedict changes rituals for new pope's inauguration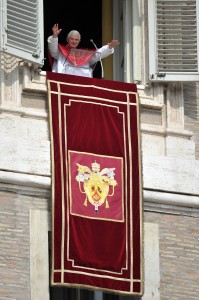 By Cindy Wooden Catholic News Service 
VATICAN CITY (CNS) — Pope Benedict XVI has ordered several changes to the Masses and liturgies that will mark the inauguration of the next pope's pontificate.
Rites and gestures that are not strictly sacramental will take place either before a Mass or in a ceremony not involving Mass, Msgr. Guido Marini, master of papal liturgical ceremonies, told the Vatican newspaper Feb. 22.
One of the most visual changes, he said, would be the restoration of the public "act of obedience" in which each cardinal present at the pope's inaugural Mass comes forward and offers his allegiance.
When Pope Benedict celebrated his inaugural Mass in 2005, 12 people were chosen to represent all Catholics: three cardinals, a bishop, a diocesan priest, a transitional deacon, a male religious, a female religious, a married couple and a young man and a young woman recently confirmed.
Msgr. Marini said Pope Benedict personally approved the changes Feb. 18; they include offering a wider choice of traditional Mass prayers in polyphony and chant, rather than the new musical repertoire composed for the 2005 book.
After having personally experienced the liturgical rites drafted by Msgr. Marini's predecessor — and approved by Pope Benedict immediately after his election — the pope suggested "a few changes aimed at improving the text" of the rites for the beginning of a pontificate, formally known as the "Ordo Rituum pro Ministerii Petrini Initio Romae Episcopi."
The changes, Msgr. Marini said, "follow in the line of the modifications made in papal liturgies" over the course of Pope Benedict's papacy.
The previous edition of the ritual handbook also called for the new pope to visit the basilicas of St. Paul Outside the Walls and St. Mary Major within two or three weeks of his installation.
The new book, Msgr. Marini said, leaves it up to the new pope to decide "when it would be most opportune, even at some distance from his election, and under what form he judges best, whether it be a Mass, a celebration of the Liturgy of the Hours or a particular liturgical act" like the one found in the 2005 ritual book.
On the other hand, in an email response to questions, Msgr. Marini told Catholic News Service that no significant modifications had been made to the "Ordo rituum conclavis," the book of rituals, Masses and prayers that accompany the conclave to elect a new pope.