Pope creates body to revamp Vatican's bookkeeping, fiscal responsibility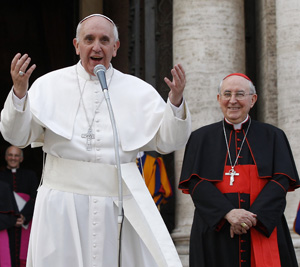 By Carol Glatz  Catholic News Service
Pope Francis has named a new commission to investigate current accounting practices among all Vatican offices and bodies and to help devise new strategies for greater fiscal responsibility and transparency.
The new pontifical commission of business and legal experts will "offer technical support" and "develop strategic solutions" to help the Vatican simplify and better coordinate its scattered resources, budgets, properties and assets, and create "a more careful organization of the economic activities of all Vatican administrative offices."
The Vatican announced the creation of the new commission July 19, saying its eight members would "begin its work as soon as possible" with its first meeting scheduled right after the pope returns from Brazil July 29.
The pope authorized the creation of the Pontifical Commission for Reference on the Economic-Administrative Structure of the Holy See July 18 with a document called a "chirograph," a brief writing on a very limited subject.
The Vatican said the goal of the commission is to find ways that help the Vatican "to avoid the misuse of economic resources; to improve transparency in the process of purchasing goods and services; to refine the administration of goods and real estate; to work with ever greater prudence in the financial sphere; to ensure correct application of accounting principles; and to guarantee health care and social security benefits to all those eligible."
The commission will also "be able to collaborate, on request, with the working Group of Eight cardinals in drafting a plan for the reform" of the curia through revision of the apostolic constitution "Pastor Bonus."
The new commission, which is made up of experts in the field of law, economics, business and finance, is the third independent body the pope has created since his March election to help him in his efforts to reform the central offices of the church.
He created an international panel of cardinals, the so-called "Group of Eight," in April to advise him on reforming the Vatican bureaucracy, and he appointed a five-member papal commission in June to review the activities and mission of the Vatican bank. All three advisory bodies are charged with studying specific problems and concerns, drawing up concrete solutions, then relaying all of their studies and results directly to the pope.