What keeps me Catholic? Glenmary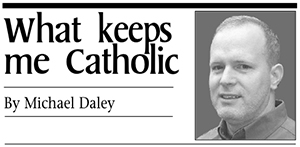 When it comes to practicing my faith, I'll admit it, I'm spoiled.
Living in Cincinnati, there's still a Catholic church within a short drive (even walk) of our homes. Educational opportunities at the parish, high school, and college level are numerous. Summer brings an abundance of festivals. Lent ushers in a competitive line up of fish fries. Many of our spouses, neighbors, co-workers and friends share the same faith tradition as us. Unlike other places, Catholicism is still very much a part of the social fabric of our city. For these and still other reasons, it could be said that being Catholic in Cincinnati is "easy."
This experience stands in stark contrast to a place I recently visited on a mission trip with two other chaperones and 10 young men from St. Xavier High School — Lewis County and the city of Vanceburg, Ky. Though only two and a half hours away, it is literally a different world than "Catholic" Cincinnati. Less than one percent of the population is Catholic. As a result, though vastly improved over the years, stereotypes and prejudices against Catholics still endure. With limited economic resources, an institutional Catholic presence — churches, hospitals, schools, social service agencies — is virtually nonexistent. As a result, practicing one's Catholicism is more difficult.
Thankfully, the people of Lewis County have the Glenmary Home Missioners,  which established a mission — Holy Redeemer — there in 1962. Founded in 1939 by Father William Howard Bishop and sponsored by Archbishop of Cincinnati, John T. McNicholas, Glenmary is a society of priests and brothers dedicated to serving the spiritual and material needs of people living in mission counties throughout Appalachia and the South. (Their name partially comes from the Cincinnati suburb where their headquarters was first located — Glendale.)
Guiding Glenmary's mission and ministry are three groups: the Catholic minority (Glenmary seeks to establish a Catholic presence where less than three percent of the local population is Catholic); the unchurched (those who have no religious affiliation); and the poor (Glenmary's missions are in places where the poverty rate is often twice the national average).
Vital to Glenmary's ministry to the people of Lewis County is the Farm located in Vanceburg. For several decades now, it has served as the home base for countless mission trips. The "Farm" may be a misnomer of sorts, though, as the long time adage attributed to a Glenmary brothers says, "We don't grow crops — we grow people." So highly regarded is the program that Catholic high schools, colleges, and parish youth groups come from across the country to spend a week in service to the community, engage in simple living, and open their lives up to extended reflection.
The week that I was there, we worked with People's Self-Help Housing (an organization that builds and renovates homes for low-income persons); Vanceburg Senior Citizens Center; Comprehend (a day care center for developmentally disabled adults); and the ecumenical Lending a Helping Hand Food Pantry and rummage store. We also did yard work for a local resident known as "Wild Woman."
The evenings were spent experiencing Appalachian culture through music, joining Holy Redeemer parishioners one evening for Mass, and attending a worship service at a local non-Catholic church. We concluded each day with a prayer service followed by silent reflection and journaling. By the end of the week the sense of community they'd established amongst themselves and the spirit of solidarity they'd created with the people of Vanceburg was very tangible.
In leaving I was struck by a weathered sign on one of the Farm's buildings, which read: "The Farm — Peace Came and Stayed." The peace that Glenmary provides through the Farm and their other ministries throughout Appalachia and the South is what keeps me Catholic.
++++++++
Daley is freelance writer and teacher at St. Xavier High School.