Xavier's dining facility wins national award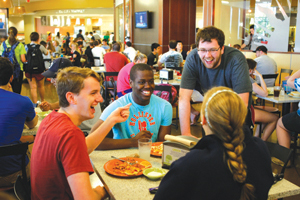 By Eileen Connelly, OSU 
The Catholic Telegraph 
Whether they have a hankering for homemade pizza cooked in a stone-hearth oven, a tasty vegetarian dish or delectable cookies and brownies prepared by a master pastry chef, students at Xavier University are sure to find something to tempt their taste buds at the school's award winning Hoff Dining Commons.
In May, Xavier's residential dining won the top award for medium sized schools in the 2013 National Association of College and University Food Services (NACUFS) annual competition. The award is the ultimate professional tribute in college and university culinary arts. The Loyal E. Horton Dining Award in the Residential Dining Concepts category celebrates exemplary menus, presentations, special event planning and new dining concepts, and provides an avenue for sharing ideas and creative presentations in campus dining services. Six categories address all types of college food service.
"To be judged as best of class by our peers in our first year competing is an honor," said Edward Devoid, director of Xavier Dining. "We look forward to continuing to raise the bar on quality and presentation."
Jennifer Paiotti, Xavier Dining marketing manager, created the hardbound book that accompanied the application and enabled Xavier to win its first top award. "Xavier Dining's Residential Dining Services is about excellent quality and customer service," she explained. "Innovative techniques and trend-setting ideas give our students, faculty and staff more than just a meal. They get a dining experience when they come through our doors."
Coming through those doors means XU students will receive more than just a good meal. They'll be warmly welcomed, made to feel at home and experience a sense of community.
"Everyone gives their heart and soul to the students through the work they do here," Paiotti said. "This is the students' home away from home."
To that end, every effort is made to meet the individual dietary needs of each student, whether related to health issues, religious reasons or personal choice. Gluten free selections are available, for example, as are vegan options. Biannual surveys enable students and faculty to provide feedback on speed of service, quality of the food and "assess how we're doing," Paiotti said. In addition, students have the opportunity to provide their favorite recipes from home to the staff and every effort is made to incorporate them into the menu.
Approximately 4,000 meals a day are served in the more than 12,000 square foot facility during the academic year. Featuring five food stations and five distinct seating areas (based on the five principals that are part of the university's Jesuit heritage: mission, reflection, discernment, solidarity and kinship and service rooted in justice and love). Hoff Dining Commons is "the heart of campus," said Paiotti. "Students don't just come to eat; they come to socialize or study. They can come in and bring their friends, or sit with their professors.
"The facility is highlighted by the culinary areas, but most importantly, it's a place of gathering, where students can relax, as well as eat," said Tom Barlow, director of auxiliary services at XU. "It's a place of learning and community."
The dedication the dining staff has to the students is obvious. Eric Schene, pastry chef, said he loves preparing a variety of deserts (homemade chocolate mousse is a particular favorite) and keeping "things fun for them," whether it's setting up a chocolate fountain for dipping various tasty treats or building gingerbread houses during the holidays.
While the award is significant, Barlow said, "The true measure of our success is measured by student happiness and the positive feedback we receive from them. The national recognition is meaningful, but what's most meaningful is that our students have a positive experience. They're what it's all about."