Mount St. Joseph launches multicultural special education master's degree online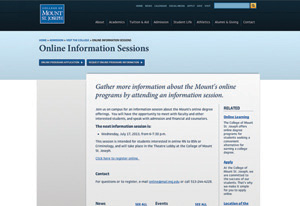 By Megan Walsh
The Catholic Telegraph 
According to the National Catholic Education Association (NCEA), student diversity has increased in Catholic elementary and secondary schools over the past 40 years.
The College of Mount St. Joseph, seven miles from downtown Cincinnati, is actively addressing the increasing diversity of the archdiocese with a fully online multicultural special education teaching license and master's degree program. The program is one of three that have been organized by the new Online Initiatives Program at the Mount.
Associate Director of Online Initiatives Michael Detzel was recently hired to contribute to this exciting opportunity to build online programs from existing in-class programs. 
"It is the only fully online multicultural special education master's degree [in the nation]," Detzel said.
Detzel went on to say that a lot of places have the special education component and "multiculturalism" is the key word that is being used, however the diversity aspect — the different backgrounds that young people come from and how this affects their knowledge and learning styles — isn't being addressed.
The master's program at the Mount, which is currently offered on campus, focuses on "teaching educators that just because someone is from a different background does not mean their leaning style is bad, it means that teachers need to learn how to teach that student," said Detzel.
Admission Counselor for Adult and Graduate Studies Mary Brigham said that teachers would be the students in this program because an initial teaching license is required. "Someone who would seek this second license would be wishing to expand their career options," said Brigham. "It is a second teaching license with a master's of education degree."
The inspiration for making this second license and master's degree more available to teachers came from the numbers. According to the NCEA 2 million students were enrolled in Catholic elementary and secondary schools for the 2012-13 school year. Of those 2 million, about 14.3 percent identified as being of Hispanic or Latino descent and about 17.7 percent identified as racial minorities. Also contributing to the diversity of Catholic school students is the 15.9 percent who identified as non-Catholic.
The Mount believes there is a great need for this highly specific teaching license especially because 10.9 percent of Catholic schools are considered inner city and 30 percent of schools are found in urban settings.
Besides being the only truly fully online multicultural program designed to teach culturally responsive education and offering the opportunity to earn a master of art distinction, program highlights include optional international spotlights on teaching and learning in inclusive environments, as well as the Mount having the lowest tuition for a similar degree in Cincinnati.
The Mount's Multicultural Special Education Program will be launched online in January 2014 after two other programs — RN to BSN and criminology — are launched as fully online programs in August 2013. Both of these programs are degree-completions, meaning that they will build off of the RN and criminology associate's degrees to grant students their bachelor's degree. The Online Initiatives Program will be offering these degree-completions in a different format than in-class, face-to-face courses.
From receiving feedback of their other graduate and adult studies programs, the Mount has modeled their new fully online programs to best suit the schedules of the students. The Mount will be offering two 8-week courses in one semester, back to back, for their online programs. Instead of balancing two 16-week courses, students will focus on one course at a time.
Everything about the fully online programs is geared toward the full-time working adult and part-time student. The Mount is striving to make accessible anything that adult and graduate students might need.
"Online students have access to all the resources offered on campus," said Jack Ballman, admission counselor and transcript analyst. "There are lobbies for students to come to campus to study in, a 24 hour-computer lab and the learning center that online students can take advantage of."
Detzel said they have worked incredibly hard to make the online experience as engaging and rewarding as the in-class, face-to-face experience.
"Our teachers have worked with our IT team to not only organize the information but also make it interactive for students," Detzel said. "Among other techniques, our lectures can be listened to and there are videos and polls available to all students to engage them together."
For example, the RN students who are working toward earning their BSN are not only learning technical skills that they can apply in the field, but also how technology is contributing to medicine.
"BSN students take an informatics course which helps acquaint them with modern technology and how it impacts patient care," said Detzel.
Tony Aretz, president of the college, said he wants to see three new programs fully online each year.
"We are already succeeding with these three new programs in the first year," said Detzel. "We're very excited for the future."