Pope Francis named TIME's 2013 Person of the Year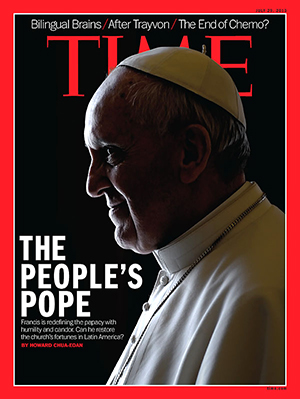 Staff & CNS Reports
From the moment he stepped onto the balcony following the words "Habemus Papam," Pope Francis has captured the attention of the world.
Acknowledging that impact, TIME magazine has named the Holy Father as its 2013 Person of the Year. Pope Francis earned the nod by beating out NSA leaker Edward Snowden, gay rights activist Edith Windsor, Syrian President Bashar al-Assad and Republican Senator Ted Cruz of Texas. The top 10 list also included President Barack Obama and singer Miley Cyrus.
The cover story, which is available to read online here, is titled, "Pope Francis, The People's Pope." The subheading reads "He took the name of a humble saint and then called for a church of healing. The first non-European pope in 1,200 years is poised to transform a place that measures change by the century."
"It's a positive sign that one of the most prestigious recognitions in the international press" goes to a person who "proclaims to the world spiritual, religious and moral values and speaks effectively in favor of peace and greater justice," Vatican spokesman, Jesuit Father Federico Lombard said in a written statement Dec. 11, shortly after Time announced it had named the pope for the annual feature.
Chronicling some biographical information and adding notes on what Pope Francis has done so far, the story makes clear once again that all roads do lead to the Eternal City.
In a companion piece entitled, "The Choice," TIME Managing Editor Nancy Gibbs explains why Pope Francis was given the honor. That story is also available to read online here.
"At a time when the limits of leadership are being tested in so many places, along comes a man with no army or weapons, no kingdom beyond a tight fist of land in the middle of Rome but with the immense wealth and weight of history behind him, to throw down a challenge," she wrote. "The world is getting smaller; individual voices are getting louder; technology is turning virtue viral, so his pulpit is visible to the ends of the earth."
Blessed Pope John XXIII (1962) and Blessed Pope John Paul II (1994), both of whom will be canonized as saints in the near future, are the only previous pontiffs to be named TIME's Person of the Year.
Other past honorees include several U.S. Presidents, Mahatma Gandhi, Adolf Hitler, Josef Stalin and Mark Zuckerberg, founder of Facebook. The magazine says the title goes to the person or idea that "for better or worse … has done the most to influence events of the year."