Pope Francis names new bishop for Kansas City-St. Joseph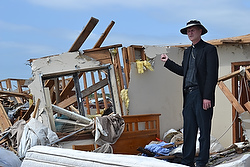 By Elise Harris CNA/EWTN News
The Vatican announced Sept. 15 that Bishop James V. Johnston, Jr. of Springfield-Cape Girardeau has been selected as the new head of the Kansas City-St. Joseph diocese.
Announced in a Sept. 15 communique from the Vatican, Bishop Johnston's nomination falls just five months after the diocese's former bishop, Robert W. Finn, stepped down after becoming first U.S. bishop convicted of a misdemeanor in failing to report suspected child abuse by a priest in his diocese. The fact that Bishop Johnston has formerly served on the U.S. Conference of Catholic Bishops' Committee on Child and Youth Protection, then, is no small detail.
Since Bishop Finn's resignation in April, Archbishop of Kansas City Joseph F. Naumann has served as Apostolic Administrator of Kansas City-St. Joseph.
Archbishop Naumann will officially present Bishop Johnston to the chancery staff at 10:00 a.m. local time in the diocese's Catholic Center. He will continue to act as administrator until Bishop Johnston's formal installation Nov. 4.
Bishop Johnston, 55, was born Oct. 16, 1959 in Knoxville, Tennessee. He attended both Catholic elementary and high schools, and in 1982 earned a bachelor's degree in Electrical Engineering from the University of Tennessee in Knoxville.
In 1985 the bishop left his engineering career in order to pursue the priesthood. He attended St. Meinrad School of Theology in Indiana, where he obtained a Master of Divinity Degree in 1990.
He was ordained a priest for the diocese of Knoxville June 9, 1990, and six years later went on to earn  a Licentiate in Canon Law from the Catholic University of America.
As a priest in Knoxville, Bishop Johnston served both in parish ministry and as chancellor and moderator of the curia.
In 2005, he and two other priests were awarded the Citizens Award for Bravery by the U.S. Department of the Interior for helping save a family in that was in danger of going over a waterfall in Glacier National Park.
He was consecrated a bishop for the Diocese of Springfield-Cape Girardeau March 31, 2008, where he worked to encourage vocations to the priesthood, and helped to found Catholic Charities of Southern Missouri. He also supported the Catholic Worker movement.
The bishop also served on the U.S. Conference of Catholic Bishops' Committee on Child and Youth Protection and is currently Episcopal Liaison to the National Council of Catholic Women.
His motto episcopal motto is "The love of Christ urges us on."
Posted Sept. 15, 2015