Updated: Pope Francis speech to congress will be broadcast on Fountain Square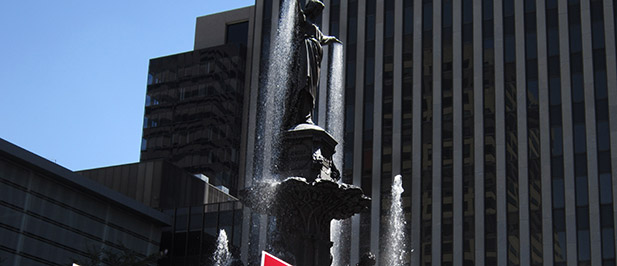 Updated Sept. 14: Pope's speech scheduled to begin at 10 a.m.
Staff Report
When Pope Francis becomes the first pope to address a joint session of the U.S. Congress, Cincinnatians will have a chance to witness the speech in a unique way. The 10 a.m. speech Sept. 24 will be shown live on the big screen at Fountain Square in downtown Cincinnati. The event start time is 9:30 a.m. 
Update Sept. 14: The official schedule from the United States Conference of Catholic Bishops had the speech scheduled at 9:20 a.m., but a spokesperson for Speaker of the House John Boehner's office, which has been involved in the planning process as well, said the speech will be at 10 a.m. The Archdiocese of Cincinnati has accordingly adjusted the event's start time from 9 a.m. to 9:30 a.m. The schedules of diplomatic visits are often subject to change.
Speaker Boehner (R-Ohio) tweeted his support for the Fountain Square gathering.
Thrilled that @Pontifex's historic message to Congress will be broadcast on #Cincinnati's @MyFountainSqr → http://t.co/2I2KqIZID8 #Ohio

— Speaker John Boehner (@SpeakerBoehner) September 14, 2015
The event is confirmed, but details are still coming out. Currently billed as "Coffee with the Pope," a bulletin in the Archdiocese of Cincinnati Social Action Office newsletter released Thursday called it, "an informal, rain-or-shine, opportunity to grab a cup of coffee and celebrate this exciting moment in our history."
The video screen, located atop Macy's department store at Fifth & Vine Streets is a full-color, 30.5′ x 42.5′ high-definition 16-mm Surface Mount Display LED board manufactured by Cincinnati-based LSI Industries, according to the Fountain Square website.
In addition to the event, Cincinnati Archbishop Dennis M. Schnurr has released a "Prayer for the Papal Visit." A note accompanying the prayer that was sent to all parishes of the archdiocese read, "Please pray the following during Pope Francis's apostolic visit to the United States. It would be particularly appropriate to say this prayer as the Holy Father addresses the U.S. Congress on Thursday, September 24, if you are unable to watch it live."
The prayer follows:
God of all peoples,

We give you thanks for your Son, Jesus Christ, whose final prayer for his disciples was, "that they may be one as we are one."

We praise you for the gift of Pope Francis, our Holy Father, who has been given the historic opportunity to proclaim Your love and truth to the heart of our democracy.

We ask that his witness stir in our elected leaders and citizens across our country a renewal of unity in serving the common good of the entire human family. Let this day bring new possibilities

… For the protection of our religious freedom;

… For the respect of all life from conception until natural death;

… For the strengthening of our families, the foundation upon which our whole nation rests;

… For feeding the hungry, sheltering the homeless, and welcoming the migrant;

… For forging racial harmony and seeking peace and solidarity in our communities and throughout the world;

… For protecting the gift of creation, our common home.

May we always proclaim our faith in the public square and be a sign of Your love to all the world.

We ask for all these things through Jesus Christ our Lord, Light to all nations. Amen.

 —Most Reverend Dennis M. Schnurr, Archbishop of Cincinnati
Posted Sept. 10, 2015