Pope says respect for religion should limit freedom of expression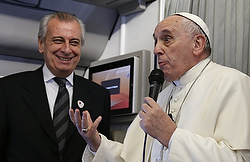 By Francis X. Rocca Catholic News Service 
ABOARD THE PAPAL FLIGHT FROM COLOMBO, Sri Lanka — Commenting on recent killings by Islamist terrorists at a Paris newspaper, Pope Francis condemned killing in the name of God, but said freedom of expression should be limited by respect for religion and that mockery of faith can be expected to provoke violence.
The pope made his remarks Jan. 15 to reporters accompanying him on a flight from Sri Lanka to the Philippines. During the 50-minute news conference, the pope also said his encyclical on the environment likely will be published early this summer, and that he will canonize Blessed Junipero Serra, an 18th-century Franciscan missionary to North America, in the U.S. this September.
Asked by a French reporter to compare freedom of religion and freedom of expression as human rights, Pope Francis linked his answer to the Jan. 7 attacks at the offices of Charlie Hebdo, apparently in retaliation for the newspaper's publication of cartoons mocking Islam's Prophet Muhammad.
"Let's go to Paris, let's speak clearly," the pope said. "One cannot offend, make war, kill in the name of one's own religion, that is, in the name of God."
The pope said freedom of expression was a "fundamental human right" like freedom of religion, but one that must be exercised "without giving offense."
Offering a hypothetical example that referred to the Vatican's planner of papal trips, who was standing beside him as he spoke, the pope said: "It's true, one cannot react violently, but if Dr. (Alberto) Gasbarri, a great friend, says a swear word against my mother, then he is going to get a punch. But it's normal, it's normal. One cannot provoke, one cannot insult other people's faith, one cannot make fun of faith."
The pope said those who "make fun or toy with other people's religions, these people provoke, and there can happen what would happen to Dr. Gasbarri if he said something against my mother. That is, there is a limit. Every religion has its dignity."
Regarding reported terrorist threats to his own life, the pope said he was not courageous in facing pain but had a "healthy dose of obliviousness" to his own safety. He acknowledged that his situation poses dangers to the crowds of faithful around him, and said his security detail was keeping him informed and taking "prudent" precautions.
Asked about his widely awaited encyclical on the environment, Pope Francis said the document had already been through three drafts by a team under Cardinal Peter Turkson, president of the Pontifical Council for Justice and Peace, and reviewed by the Vatican Secretariat of State and the theologian of the papal household.
"Now I'll take a week out in March to look at it. At the end of March, I think it will be completed. Then it will go to be translated. I think that if the translations go well, in June or July, it could come out," the pope said.
Pope Francis said it was important the encyclical come out soon enough to influence a global climate change summit scheduled to open Nov. 30 in Paris, where he hoped leaders would show more courage on the subject than in the past.
While not explicitly replying to a question about the influence of human activity on climate change, the pope echoed earlier criticisms of man-made damage to the environment through such practices as deforestation and overexploitation of agricultural lands.
The pope opened the news conference with an unsolicited statement about his decision to canonize St. Joseph Vaz, a 17th- and 18th-century missionary to Sri Lanka, without going through the usual process, including verification of a second miracle attributed to the saint's intercession. Pope Francis said St. Joseph was one of a series of great evangelists whom he planned to canonize without such preliminaries, in an effort to celebrate the practice of evangelization.
"Now in September, God willing, I will canonize Junipero Serra in the United States. He was the evangelizer of the west in the United States," the pope said.
The pope has confirmed he will visit Philadelphia for the World Meeting of Families in September, and has suggested he might travel to New York City, Washington, D.C., and Mexico City on the same trip, but no itinerary has been released. His announcement of Blessed Junipero's canonization is bound to raise expectations that he will also visit the southwestern U.S. The Franciscan priest established dozens of missions in what is now California and Mexico.
Regarding his visit to the Philippines, Pope Francis said his focus there would be on poor people: "the poor who want to get ahead, the poor who have suffered through Typhoon Haiyan and are still suffering the consequences, the poor who have faith and hope." The pope was scheduled to travel Jan.17 to Tacloban, in the central part of the country, which was especially hard hit by the typhoon in November 2013.