Prayer Partners: Strengthening Parish and School Bonds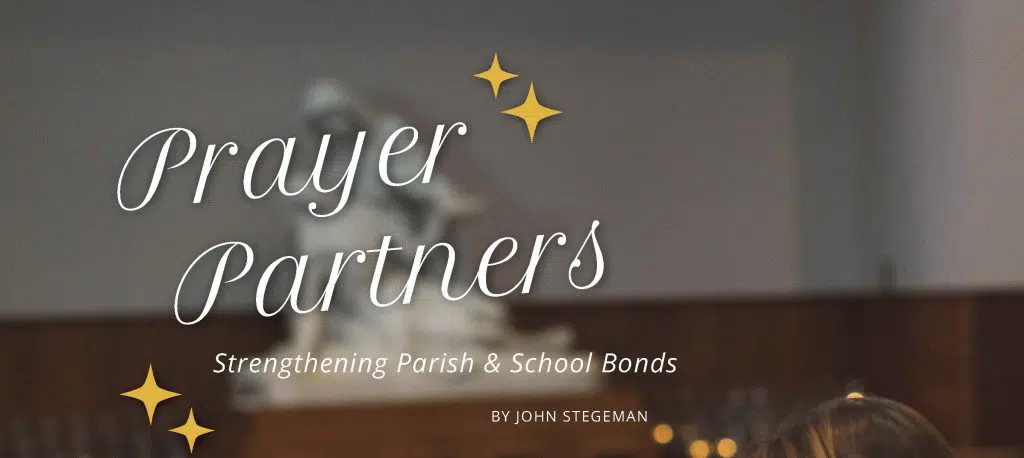 The Catholic faith is a communal religion. It's right there in the name, Catholic, which means universal. Being Catholic means having a relationship with God, the saints and our fellow believers in the pews.
The Prayer Partner program at Guardian Angels Parish and School in Mt. Washington fosters this community, connecting second graders preparing for First Communion with adult parishioners, and reuniting them in eighth grade to prepare for the student's confirmation.
The pairs first meet with a getting- to-know-you breakfast, and then at least three more times throughout the school year, including worshipping at Mass together just before First Communion in May. Throughout the year, they pray for each other.
Started in 2008 by parishioner Amy Heyd, Margaret Dunn is the program's current facilitator. Most adult participants are parents of former Guardian Angels students, said Kay Froehlich, parish director of religious education. The program includes students both in the school and CCD.
"It really is a great way for the kids to see adults that are actively living out their faith and engaged and interested in passing on their faith to the younger generation," said Froehlich. "I think it's really great for our older parishioners to see the future of the Church and the excitement and enthusiasm of these little ones and their developing love of Jesus. Everybody seems to get something really meaningful out of the experience."
Anne Keefe, parent to five Guardian Angels' graduates and a prayer partner since 2009, agrees. Helping students prepare to receive Jesus brings her back to her own First Communion.
"I think it brings more to light for us the first time that you received the Lord," Keefe said. "I remember mine, but you look back [through these students] and you appreciate it more."
Keefe noted that of the 100 or so adult prayer partners, many are daily Mass goers who share her devotion to the Blessed Sacrament. She said, "It's easy to talk about something you love."
"Being a prayer partner allows us to share our love of the Holy Eucharist with these hungry second grade souls," Keefe said "Their young minds and hearts embrace what they are learning from their parents and teachers. They are taught how sacred it is to receive Jesus in the Eucharist and as prayer partners we are there to affirm this through getting together with them and talking to them about our own love and devotion to the Eucharist."
Father Thomas King, pastor, said that the program's cross generational nature strengthens the parish as a whole.
"Some of our second graders do not have a grandparent in the area and that is another benefit," Father King said. "We are family, God's family, journeying together and if you see the smiles on the faces of the children and their prayer partner, you see love and blessings being shared. It's wonderful."
The Catechism of the Catholic Church confirms parents are their children's primary educators, but programs like this show students that their family isn't alone in practicing the faith.
"We do everything we can to bring Jesus to these kids," said Froehlich. "[At school] we go to church at least once a week. [Prayer Partners] are a great opportunity for those older parishioners to say maybe I'll see you in church [on Sunday]. It's an example of a different adult outside their family that is living the faith and being active and receiving the sacraments."
Many adult prayer partners participate in the program every year. Both Keefe and Froehlich said it is common at Mass to see previous partners engage in conversation. Teachers ensure second grade students remember their prayer partners by writing notes and drawing pictures for them.
Eighth graders keep in touch with notes as well, some relationships becoming long lasting.
"I got a letter from my third prayer partner when she was in college," said Keefe. "I just appreciated that she still remembered me."
This article appeared in the January 2022 edition of The Catholic Telegraph Magazine. For your complimentary subscription, click here.