Precious Blood Missionary ordained a priest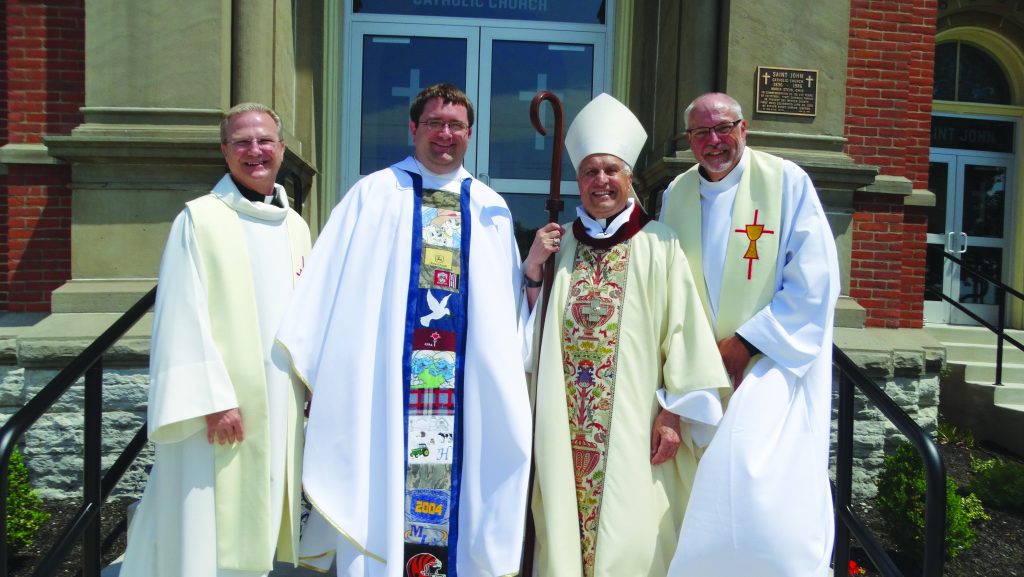 Father Matthew Keller was ordained to the priesthood on June 9 in his home parish of St. John the Baptist in Maria Stein. Bishop Joseph Charron, a fellow Missionary of the Precious Blood, presided.
Bishop Charron told Father Keller to be fearless in his new role as a priest, and to put all his faith in the God who called him. "God said to Jeremiah, 'To whomever I send you, you will go. Have no fear.' Matthew, on your ordination day, have no fear. Keep close to God, and God will stay close to you," he said. "You are a Missionary of the Precious Blood. You have been chosen to spread the merits of the Precious Blood as part of this community. I ask that the Holy Spirit come down on you in a very powerful way as you go on your missionary journey. With a shepherd's care, you are to be with the people in good times and difficult times—truly be in their midst as a strong but gentle leader, a true shepherd."
Father Keller has been serving as a deacon at Dayton's Region Seven parishes — Emmanuel, Holy Trinity and St. Joseph. He is now the parishes' parochial vicar. Throughout his years of formation with the Missionaries, Father Keller also served at St. Michael Church in Kalida, Ohio, and the Church of the Resurrection in Cincinnati. He is a graduate of Marion Local High School in Maria Stein; St. Xavier University in Chicago; and the Catholic Theological Union in Chicago, where he earned a master of divinity degree.
He presided at his first Mass at St. John the Baptist on June 10. In his homily, he credited his parents and family members for fostering his religious vocation. He also thanked the Missionaries, who minister at the parish and at nearby St. Charles Center, for encouraging him on his path.
In his first homily as a priest, Father Keller said, "On a weekend like this, the temptation is to say 'It's all about me.' . . . What is this weekend really about? Last year before I was ordained a deacon, Father Dennis Chriszt, C.PP.S. (the director of advanced formation), gave me some words of wisdom. He said, 'It's not all about you. It's about how God is working through you.' I am just an instrument through whom God is working. "God called me to the priesthood. But God calls each and every one of us. He doesn't call each and every one of us to do the same thing. He calls us to do a variety of different things, on different paths and in the various stages of our lives. When each of us responds to our call, we create a beautiful picture of what our church is."