Precious Blood Sister Bela Mis professes first vows
DAYTON, Ohio — Precious Blood Sister Francisca Belarmina Mis Guamuche pronounced first vows during a Mass and ceremony Dec. 9 in the chapel at Salem Heights, the Congregation's motherhouse.
As part of the rite, Sister Bela proclaimed, "Today, with happiness for being called to religious life … I, Francisca Belarmina Mis Guamuche, make my vow of chastity, poverty and obedience for three years, according to the constitution of the Sisters of the Precious Blood."
Sister Joyce Lehman, President of the Congregation, accepted Sister Bela's vows. A luncheon followed the Mass and ceremony in the Salem Heights dining room. "This day is one of great joy for our Sisters as well as for those who have come to know Sister Bela in her studies and ministry in the novitiate. The number of people who came from near and far to be with her on her profession day is testimony to how she proclaims God's love by being a life-giving and reconciling presence to others," Sister Joyce said.
The following day, Sister Bela renewed her vows with the Hispanic community at St. Mary Catholic Church in Dayton, where she ministered during her novitiate.
Sister Bela grew up in Guatemala City and holds a bachelor's degree in social work from the Universidad Mariano Gálvez de Guatemala. "I thank each one of you who have accompanied me on this journey of discernment and formation, for their friendship, affection and support," she wrote in a message printed in the ceremony program. "A thousand thanks to all of you for enriching and being part of my life."
---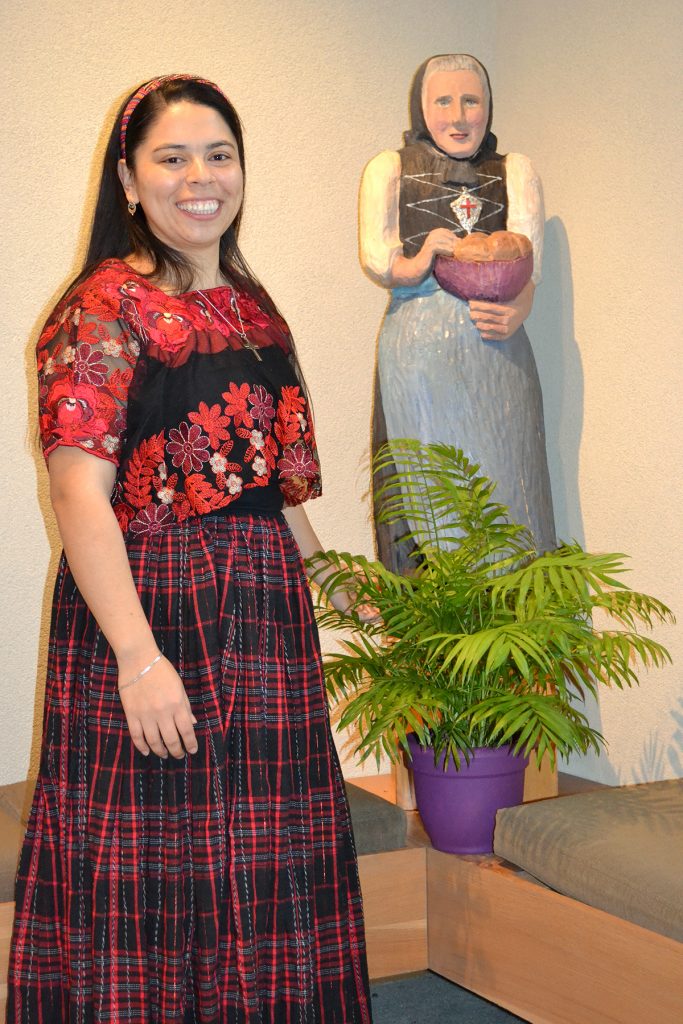 The Sisters of the Precious Blood were founded in Switzerland in 1834 and first came to the United States in 1844. Their motherhouse has been located at Salem Heights on Denlinger Road in Dayton since 1923. Precious Blood Sisters are active in the United States, Chile and Guatemala in a variety of ministries, including education, spiritual formation, pastoral ministry, health care, and peace, justice and care of creation.