Pregnancy Center West Welcomes New Executive Director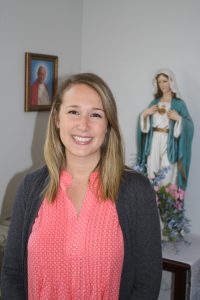 New Director Previously Lead In-school Chastity Education Program Past Two Years
(Cincinnati, OH, August 2, 2018) – Pregnancy Center West (PCW) announced today that it has promoted Laura Caporaletti to Executive Director effective August 1st, 2018. Miss Caporaletti, who has lead Pregnancy Center West's chastity education program, The Body Matters, for the past two years, replaces Nicole Santaella, who has decided to be at home with her family as she welcomes the couple's fifth child.
"We're delighted to have Laura step up to this role leading our Center," stated Lisa Smith, president of PCW's Executive Board. "Laura's faith, energy, compassion and heart for PCW's ministry position her as an excellent candidate. I know that God has put her where He intends, and our Board has every confidence in Laura's leadership."
"I am both humbled and excited to serve as Pregnancy Center West's newest Executive Director," stated Laura Caporaletti. "To dedicate my time and talent to an organization that aspires to be a safe place for women, men, and babies is a privilege that I do not take for granted! As I get settled into this new role, I look forward to seeing how God will continue to inspire us to make PCW a place where all can turn to for love, support, and prayer, accurate information on abortion and its consequences, and critical material assistance. I know He has amazing things in store for our community!"
Laura Caporaletti is a devout Catholic committed to promoting the sacredness and dignity of all human life – from fertilization to natural death. She is ecstatic to be serving women, men, and children in this capacity at Pregnancy Center West. Born and raised in the Washington, DC area, she chose to attend Catholic University to study a number of subjects and grow in her faith. In 2014, she graduated with her Bachelor's Degree in English Literature and Philosophy, as well as her Master's Degree in Business Analysis. After graduating, she moved to Cincinnati to pursue a job opportunity at The Dynamic Catholic Institute. While at DCI, she served as a development officer and truly learned the "nuts and bolts" of non-profit work. Yet, she still desired to be involved with a pro-life organization in a more explicit way! In 2016, she joined the PCW team as the female educator and Outreach Coordinator of The Body Matters program. She spent two years in that role, speaking to over 2,800 students a year about God's good plan for our sexuality and the pro-life movement.
About Pregnancy Center West:
Founded in 1981, Pregnancy Center West (PCW) is a Christian, pro-life ministry dedicated to helping women facing untimely pregnancies choose life for their babies, providing assistance with pregnancy and parenting-related services to help make life-giving choices easier, and encouraging lifestyles of sexual integrity in keeping with God's plan for relationships. Located at historic Prout's Corner (where Glenway Ave., Guerley Rd. and Cleves-Warsaw intersect), the center engages women and their families every day as they work to fulfill their life-affirming ministry. PCW is an affiliate of Heartbeat International and the National Institute of Family and Life Advocates and is a member of the Greater Cincinnati Pregnancy Center Coalition.