Priest blesses motorcycles in first annual 'Blessing of the Bikes' [Photos]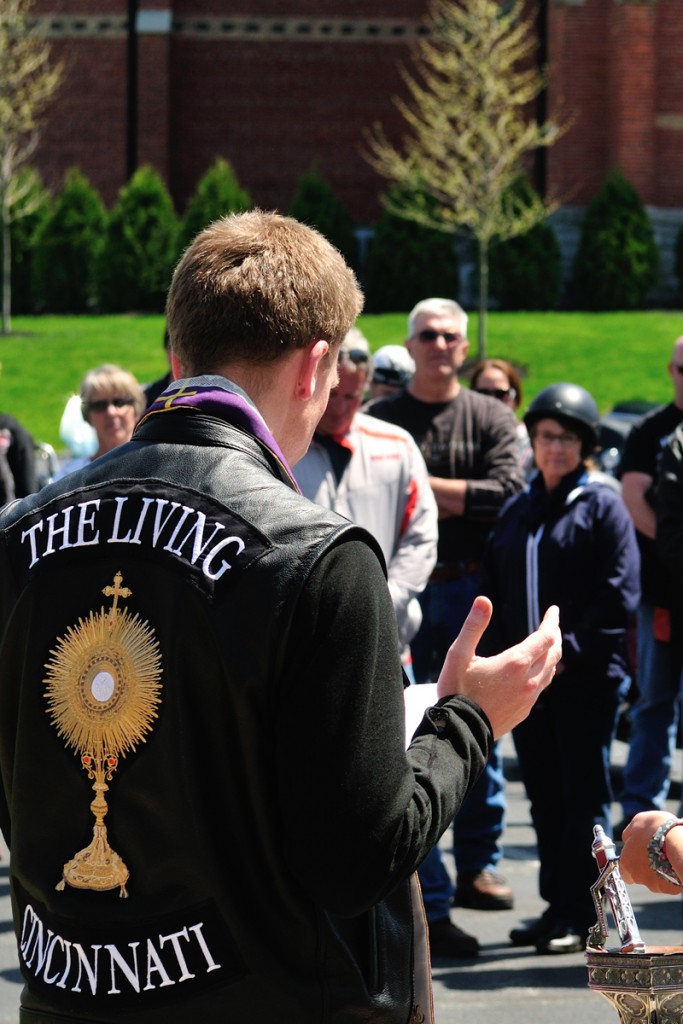 Sporting a biker vest emblazoned with a monstrance, Father Ethan Moore blessed between 75-100 motorcycles gathered for the first annual Blessing of the Bikes and Rosary Run April 24 at St. Michael Catholic Church in Fort Loramie.
Father Moore's first foray into what he calls "Biker Ministry," aimed to bring together Catholics who share the common recreational hobby of riding motorcycles.
The priest blessed the bikes with holy water before most of those gathered roared across the landscape, visiting multiple parishes in the land of the cross-tipped churches and saying a Hail Mary at each stop. The full run was 74 miles.
Planned and organized by St. Michael Youth Minister Kevin Schulze and Father Moore, the event was a success. Plans are in the works for a similar blessing and run in June.
Taking his "Biker Ministry" into top gear, Father Moore is also establishing a biker gang.
"When I was in seminary, I got a motorcycle," said Father Moore, the owner of a Honda Shadow motorcycle. "And it is just a great joy to ride. There is a real freedom to biking. But of course, like everything, it is even greater when we can incorporate our faith to it. So I've been dreaming of creating a biker gang, and I do say gang, not club. Let's call it what it is."
The gang's name, the living, comes from the early disciples. In the time after Christ's death, his followers were persecuted and according to Father Moore, they called each other "the living."
"You could say their gang name was "The Living," he said. "That's what we get our name from. They were the living presence of Christ on Earth, that early church celebrating the Mass and bringing him to others. That's our desire, to even in the world of motorcyclists, be a living presence of Christ."
Father Moore's vest sports the name, "The Living" above a monstrance. Below the monstrance it says "Cincinnati" and the priest would like to see other dioceses embrace the moniker as more people are reached.
The vest was designed by Father Moore and made by Jackie Kaiser, who also made Father Moore's first priestly vestments.
Father Moore added that biking can provide a common point to start a conversation with nonbelievers.
"Initially it is about building up those that are bikers and enjoy their Catholic faith and can put the two together," he said. "Going from there … maybe we'll go to a place where there's other motorcycle people and share about our life."
The Rosary Run made stops at St. Michael, Sacred Heart in McCartyville, St. Augustine in Minster, St. John in Maria Stein, St. Charles Seminary, Holy Trinity, Coldwater, St. Henry in St. Henry, St. Denis in Versailles, St. Remy in Russia and Sts. Peter and Paul in Newport.
Father Moore is the associate pastor at St. Peter in Huber Heights, Our Lady of the Rosary, Saint Adalbert, and Holy Cross in Dayton.