Priest shares love of cooking with family, friends and parish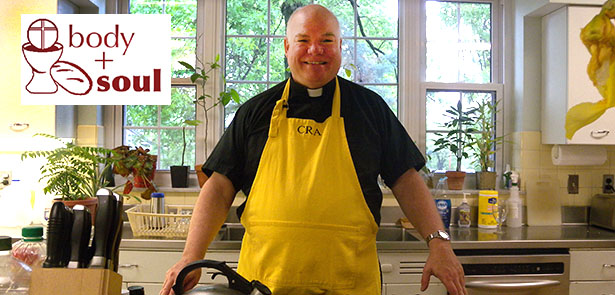 Body & Soul is a feature that hopes to highlight faith-filled folks who nourish others through their ministries, other food related topics and perhaps even heavenly inspired recipes. Please send any story ideas to Eileen Connelly, OSU.
By Eileen Connelly, OSU
The Catholic Telegraph 
As a young boy, Father Christopher Armstrong often watched as his mother, Gwynedd, cooked for their large family, sometimes helping to stir a sauce or lifting the lid of a pot for a whiff of the delectable dish that was being prepared. 
"My mother drew me into the process," he said.
He also remembers delivering a meal his mother had prepared for a neighbor after the loss of her husband, what it meant to the widow and her gratitude for the kind gesture.
Those experiences remained with Father Armstrong, currently pastor of St. Antoninus Parish in Cincinnati. As an adult, his interest in cooking grew during the years he was studying theology at the Pontifical North American College in Rome.
"There was a delightful lady there, Aelia Boccencelli, that the seminarians came to know through our apostolic work, who was very warm and generous," along with being a wonderful cook, Father Armstrong said.
Her influence, as well as the introductions to local eateries by friends, inspired the young priest to return the United States hoping to share his love for Italian cuisine with family and friends.
"I was fascinated by the endless array of pastas and sauces and the fresh ingredients," he said "When I came home, I wanted to try to recreate meals on my own."
He describes himself as a self-taught cook, learning much of what he knows through experimentation and cooking shows featuring Julia Child and Jeff Smith, "The Frugal Gourmet," long before cable.
"Now I have my favorite shows on the Food Network," he said.
Father Armstrong is partial to the cuisine of northern Italy, which features more cream, butter and oil, as opposed to the tomato sauce of southern Italian recipes. He also appreciates good Thai and Indian food, but has not yet attempted to master recipes from either country.
"I would love to learn, but you almost have to live in a culture to understand the nuances of the food," he explained.
Pastor of St. Antoninus since 2003, Father Armstrong began preparing meals out of necessity when the parish cook left for personal reasons five years ago. Now he cooks two meals five days a week for himself and Father Lawrence J. Mick, who is retired and resides St. Antoninus. Also enjoying Father Armstrong's culinary skills have been seminarians who have interned at the parish, including Father Ronald Haft, whom Father Armstrong says is a talented chef in his own right.
"He has wonderful technique," he said. "He really knows how to cut vegetables with ease and taught me that applying a thin layer of cooking spray on meat evens the browning.
The priest's skills in the kitchen have not gone unnoticed by members of the parish. The opportunity to enjoy a feast prepared by Father Armstrong in the rectory kitchen has become a popular auction item during St. Antoninus' annual fundraiser, the Main A-vent. He proudly wears an apron bearing his initials and in the school colors that was a gift from parishioners.
The holidays provide an extra special opportunity for Father Armstrong to put his culinary skills to use. Each year, he hosts a festive Christmas gathering for his siblings, spouses and their families, preparing a five course meal for them. His sister, Amy Armstrong Smith, helps select the appropriate wines to pair with what he has prepared. Father Armstrong has been known to gives peaches he has canned as Christmas gifts. He also cans tomatoes and Amish green pickle relish.
"I'm trying to preserve the things that come from my garden and the local farmer's market," noted.
While the actual cooking process is certainly rewarding for Father Armstrong, he also enjoys the planning that goes into it. "I love thinking about designing the menu, how many people are coming over, the season of the year, and of course, taking into consideration any dietary restrictions. Constraints are a catalyst for creativity. I really enjoy the technique involved with cooking and take pride in not repeating myself. I like to be as surprised as my guests are."
No matter who he is cooking for, the meaning of the act – sharing one's talents and providing nourishment – is not lost on Father Armstrong.
"There's just something about preparing a meal for people," he explained. "It's very much a spiritual experience. When I'm cooking for someone, I pray for them. When I'm peeling a peach I'm saying a prayer. There's definitely a mind, body, spirit connection when you are cooking."
This Body & Soul feature originally appeared in the June 2014 print edition of The Catholic Telegraph.