Prison chaplain pleads for life of Death Row inmate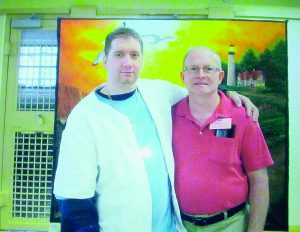 Every few weeks Chris Gebhart gets in his car and takes a drive into scenic southeast Ohio to visit men awaiting death.
Gebhart, retired president of finance, controller, and member of the board of directors for 26 years at Gold Medal Products, describes himself as a "squeaky clean guy" who answered a call to serve as a spiritual advisor to men confined in state penal institutions.
After several years serving at the Lebanon and Warren Correctional Institutions, the Liberty Township man was asked to take his ministry to Death Row at the Chillicothe Correctional Institution.
"It was a calling from God, period," he said. "I was never involved in a prison. I did stuff with the homeless and stuff like, that, but prison ministry was in my heart."
After two years of study in the Lay Pastoral Ministry Program at the Athenaeum of Ohio and a chaplaincy course offered by the Hamilton County Jail, the two Warren County state penal institutions welcomed him. He taught Catholic religion and the Bible at both, while also helping illiterate inmates learn to read and write.
During those years Gebhart met Wanda Jackson, religious administrator for the State of Ohio, who works with wardens, deputy wardens, and chaplains.
"She interviewed me. We clicked. I told her I would really, really like to visit men on Death Row," Gebhart said.
When the state moved Death Row from Youngstown to Chillicothe, Jackson called. Gebhart's dream was realized. Today, 138 men call Death Row home. Gebhart is closest to about 10 of them.
One is Ron Phillips and Gebhart is fighting for the convicted murder's life. Phillips is on death row for the 1993 rape and death of his girlfriend's three-year-old daughter in Akron. He is scheduled to die on May 10, after 24 years on Death Row, unless a challenge arguing that Ohio's chemical cocktail constitutes cruel and unusual punishment prevails. "He was 19 then. He's 43 now. He has dedicated his life on Death Row to serving other people," Gebhart said. "He has gotten to the point where other inmates on Death Row see something special in him and they come to him with problems."
But at Phillips's clemency hearing, Chief Assistant Summit County Prosecutor Brad Gessner argued for the three-year-old victim and "her tragically short life. The crime committed against her," he said, "has to be acknowledged." Quoting Akron Children's Hospital records, Gessner said Sheila, "was literally dying from inside out" from her injuries, and that "this is the worst of the worst form of the offense and whoever commits it is also the worst type of offender."
Donna Hudson, Sheila's aunt, told the hearing panel that "Sheila never had the opportunity to go to school, to get married, to have children." She asked that the execution go forward as "justice… for Sheila and the Evans family."
But Gebhart is convinced that Phillips should live. "Ron is a totally changed person," he said. "He has worked hard to improve himself and has become a very religious and moral individual. Ron's greatest desire is to study and become a prison minister, and minister to his fellow inmates behind prison walls."
"Ron Phillips should not be executed," he said. "Ron is genuinely sorry for everything that he has done and has prayed for God's forgiveness and for forgiveness from [his victim] and her family. I have heard Ron pray aloud, many times, for forgiveness from his young victim and her family. He has told me that there isn't a day that goes by that he doesn't think about what he did."
"The Catholic Church teaches that God created all of us in His image and likeness – and all life, from conception to natural death – is sacred. I am asking everyone to take a few minutes and send Governor John Kasich a letter opposing the death penalty and to plead for Ron's life," Gebhart said.
Address letters to Gov. John Kasich, Riffe Center, 30th Floor, 77 South High Street, Columbus, OH 43215-6117. The phone number is (614)-466- 3555
What Catholic Church leaders have to say about the Death Penalty:
"Indeed, nowadays the death penalty is unacceptable, however grave the crime of the convicted person. It is an offence to the inviolability of life and to the dignity of the human person; it likewise contradicts God's plan for individuals and society, and his merciful justice. Nor is it consonant with any just purpose of punishment. It does not render justice to victims, but instead fosters vengeance. The commandment "Thou shalt not kill" has absolute value and applies both to the innocent and to the guilty." (From the video message of His Holiness Pope Francis to the 6th World Congress Against the Death Penalty [OSLO, 21-23 JUNE 2016]
"Just punishment is a vehicle for the correction and conversion of the sinner. It serves to defend society and its members, and provides for the restoration of the public order made chaotic by the perpetrated crime. However, just punishment can occur – and does occur – without resorting to the death penalty. If it is not absolutely necessary to use the death penalty to defend and protect people's safety from the aggressor, the state is obligated to use "non-lethal means" (Catechism of Catholic Church, #2267). Other states and other countries have found effective ways to protect society by justly punishing offenders through non-lethal means. Ohio should do the same." (From the Catholic Bishops of Ohio regarding the Death Penalty, December 2015)
---
Scripture Connection: "When the Son of Man comes in his glory, and all the angels with him, he will sit upon his glorious throne, and all the nations* will be assembled before him. And he will separate them one from another, as a shepherd separates the sheep from the goats. He will place the sheep on his right and the goats on his left. Then the king will say to those on his right, 'Come, you who are blessed by my Father. Inherit the kingdom prepared for you from the foundation of the world. For I was hungry and you gave me food, I was thirsty and you gave me drink, a stranger and you welcomed me, naked and you clothed me, ill and you cared for me, in prison and you visited me.' Then the righteous* will answer him and say, 'Lord, when did we see you hungry and feed you, or thirsty and give you drink? When did we see you a stranger and welcome you, or naked and clothe you? When did we see you ill or in prison, and visit you?' And the king will say to them in reply, 'Amen, I say to you, whatever you did for one of these least brothers of mine, you did for me.' Matthew 25: 31-40