Radiating Christ: Dick Steineman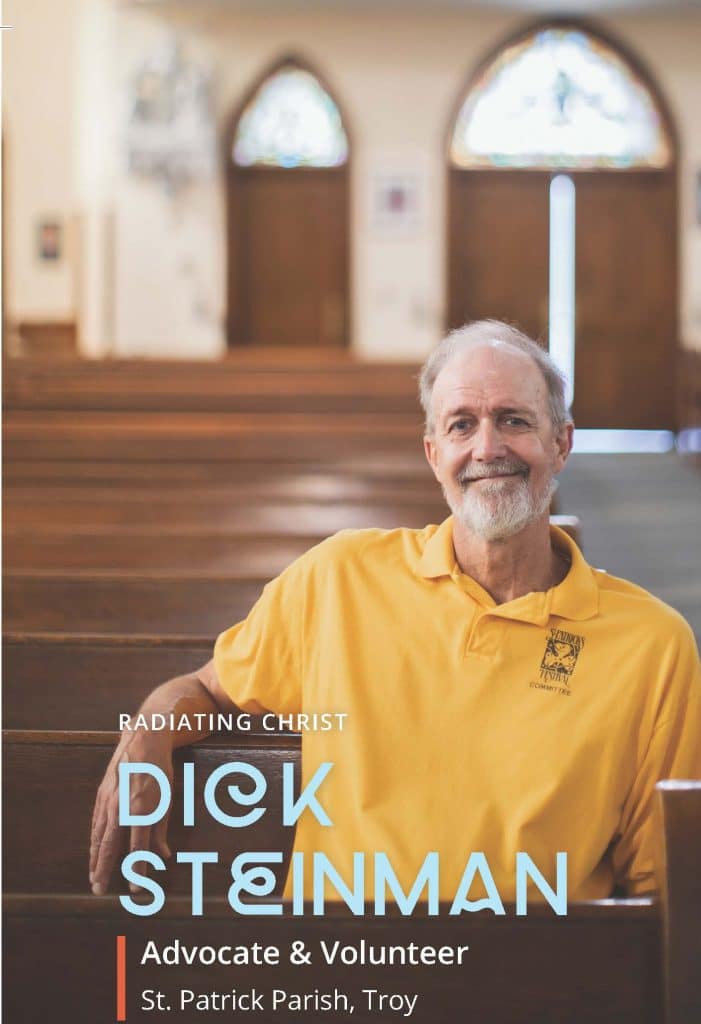 by Mark Danis
True holiness requires the courage and humility to allow Christ to continue to live His earthly life through us, to utilize our human talents and passions in the service of God's Kingdom.
Dick Steineman never imagined his passion and talent for basketball would carry him around the world, or that it would then lead him to serve God's Kingdom back in his hometown of Troy, OH. Today, Steineman runs St. Joseph's House, a homeless shelter. And, along with Deb Grant, he also oversees the St. Patrick's Parish soup kitchen, which served over 30,000 meals last year.
A high school basketball standout, Steineman won a college scholarship to Ashland University. After graduation he played professional basketball throughout Europe and South America. It was in Venezuela where the Lord placed a new desire in Steineman's heart. There Steineman asked a local resident to show him what the tourists never get to see. His guide brought him to the brow of a hill outside the town.
There, Steineman witnessed what to this day he describes in great, albeit despairing, detail. He experienced how the poorest members of that society struggle for daily existence. He viewed a community of people living in squalor, many with little more than cardboard for protection against the elements. It changed him forever.
Retiring from basketball at age 29, Steineman returned to Ohio, initially settling in Cincinnati in the famed Over the Rhine neighborhood. He briefly considered a religious vocation but instead served as a lay volunteer with the Marianists. He and Father Mark Schmieder established the first St. Joseph's House Shelter, along with a soup kitchen named for social activist Dorothy Day. Steineman identifies Day and St. Teresa of Calcutta as his inspirations.
After 10 years, Steineman returned to his native Troy. He served as a gym teacher and basketball coach, while pursuing the desire placed in his heart in Venezuela. In 1994, Steineman approached St. Patrick Parish about a soup kitchen, offering to put up a thousand dollars of his own money to start the project, with the agreement that once the money ran out, they would shut the operation down. Twenty-five years later, the kitchen continues to serve meals six days a week.
Steineman is quick to point out that what happens is beyond him. "The work," he explains, "is all Christ's." As evidence, he shares how in 2013, a large local employer, Illinois Tool Works (ITW), contributed more than $500,000 to build and outfit separate kitchen and dining facilities. Steineman also shares that the first night the shelter opened in Troy, they had only two beds for the five men looking for a accommodations. Within minutes, a truck pulled up, and a man Steineman did not know explained he had three beds in his truck and wondered if the shelter could use them.
But the work is not without its challenges. The drug epidemic in 2017 forced Steineman to move to a smaller shelter facility to better manage the guests. And, he says he struggles trying to help volunteers and people of faith better understand and serve the homeless population. His own approach is to try and live their experience, so he literally lives in the soup kitchen and even sleeps on its cement floor each night.
When pressed to identify what sustains him, Steineman cites his daily attendance at Mass, daily Rosary and his devotion to the Blessed Mother. He doesn't use the word courage to describe his work, he explains that he is merely doing what he believes Christ would do.
This article appeared in the September edition of The Catholic Telegraph Magazine. For your complimentary subscription, click here.