RCIA Profile Londa Thomas: Taking her Catholic faith to heart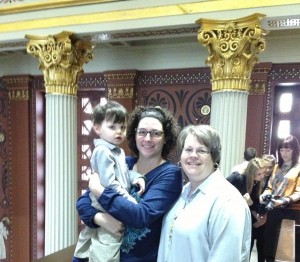 By Eileen Connelly, OSU
The Catholic Telegraph 
The recent election of Pope Francis was a joyful occasion for cradle Catholics worldwide, but it was also especially exciting for Londa Thomas, a young wife and mother who is new to Catholicism and will be welcomed into the church at Easter Vigil.
"She was so excited when the announcement came," said her sponsor, Joanne Perry, a member of St. Bernadette Parish in Amelia. "I received a text from her that said, 'white smoke, white smoke!'"
Perry said Thomas has approached the entire RCIA process with that same enthusiasm, eagerly soaking up knowledge about the Catholic faith and spending time reading the Bible and other spiritual materials. "She is taking her faith to heart and considering everything so deeply," Perry said. "She just wants to keep on learning."
Learning and growing have definitely been part of the journey for Thomas, a Cincinnati native who attended a non-denominational fundamentalist church as a child.
"I'm grateful for the background and education in faith that it gave me, but I never felt any connection with the church or the members," she said.
She did feel drawn, admitted Thomas, to Catholicism, largely due to living in proximity to Roger Bacon High School in St. Bernard. It wasn't until she met Jerry, the man who would one day become her husband, that she had any first hand exposure to Catholicism. Jerry is a lifelong Catholic, and when the young couple attended a marriage preparation class, Thomas said she immediately experienced a sense of being welcome and that connection with the other participants that she had been looking for.
Thomas' mother-in-law taught her lessons about strength and faith, too. After the older woman suffered a stroke, Thomas watched her slowly decline over the course of about six months and was moved by her courage and acceptance. "Death has always terrified me and to see her at the end be so calm, it was life changing," Thomas explained. "My husband even asked her if she was afraid and she said, 'No, I have nothing to be afraid of.' That is what I want — to know there is something even better waiting."
In their search for a welcoming faith community with a school for their young son Eli to attend when he's old enough, Thomas and her husband found St. Bernadette Parish. While she was initially nervous about the RCIA process, Thomas said she soon felt comfortable with the other participants and found herself eager to open up to them and engage in mutual sharing as they learned and grew together in their faith. The experience has been one of "letting go and gaining clarity," she said, "and God has had everything to do with that. He has called me to this and I know now how much I need Him in my life."
As Easter Vigil approaches, "I'm so excited," she said. "It's going to be like Christmas morning to receive the Eucharist for the first time," adding that excitement extends to Eli's upcoming baptism on April 21.
Perry, who is also Eli's godmother will be present for both joyous occasions. "Londa has worked so hard to reach this goal, not just for herself, but for Eli and Jerry, and she knows the Holy Spirit is behind her," she said. "I'm so proud of her and excited that her journey is just beginning.