Recent grad experienced Franciscan values at Roger Bacon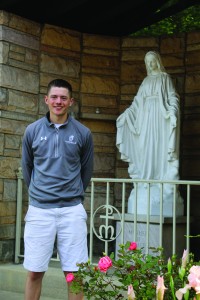 Sam Hoefling, a recent Roger Bacon graduate, said his high school experience "basically formed who I am today," and he feels well prepared for what lays ahead thanks to the values instilled by the Franciscan Friars of the St. John the Baptist Province, who sponsor the institution.
Hoefling, a member of Holy Trinity Parish in Norwood, along with his parents,  Kevin and Denise, and younger sister Julia, came to Roger Bacon via St. Nicholas Academy. Holy Trinity and St. John the Evangelist Parish in Deer Park formed the school, based on a regional covenant model, in 2007. In 2010, Our Lady of the Sacred Heart Parish joined the partnership, and the school moved to its current location in Reading.
It was the late Gerry Myers, who served as principal of St. Nicholas Academy and was himself a Roger Bacon graduate, that influenced Hoefling's decision to continue his education there.
"He showed me how to carry myself and was somebody I could talk to, about school related things or otherwise," the young man said.
During his time at Roger Bacon, Hoefling was a student ambassador, member of the golf and baseball teams and served as a Kairos, and senior leader. He found the Kairos experience to be particularly meaningful.
"As I prepared my talk for retreat, I realized how much my Catholic faith has given me something to lean on," he recalled. "I was always went to church on Sundays, but it wasn't until my uncle and godfather (Caesar Carnavale) passed away from cancer and I was dealing with his loss, that I realized how much I need God in my life."
"The Franciscan influence is strong at Roger Bacon," he added. "The Franciscan values set up guidelines for our lives, teaching us compassion and the importance of being respectful of others and cooperating with each other. I made lifelong friends of all races and feel like being around such a diverse group of people has really prepared me for the real world."
"Sam was one of those students that always stepped up and help edwhen asked — just an all around good guy and a great representative for Roger Bacon High School," said Brandon Cowans, director of admissions and communications.
Hoefling is looking forward continuing the Franciscan experience at St. Bonaventure University, where has earned a full scholarship courtesy of the Franciscan Friars of the St. John the Baptist Province. He plans on majoring in journalism and mass communications with the eventual goal of becoming national news anchor.
Whatever the future holds, Hoefling will look back on his years at Roger Bacon with gratitude.
"This institution has done so much for me, I can't even put it into words," he said. "Whatever successes I have in life, I'll look back and say Bacon is the reason."
This story first appeared in the June 2016 print edition of The Catholic Telegraph.