Religious freedom deteriorating, but don't despair, official says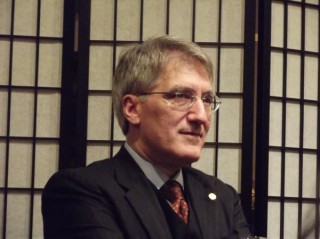 CNA/EWTN News
Although religious freedom conditions around the globe are worsening, Americans should see this fact as a cause for motivation rather than despair, said a leading scholar on the issue.
"I wish that I could say there has been some improvement in the conditions of religious freedom in the world, but I'm afraid the opposite is true: it's deteriorated," said Robert P. George, vice chair of the U.S. Commission on International Religious Freedom."The worst offending states seem to be getting even worse," he told CNA. "The reality has altered not at all."
He charged foreign policy experts to take action in promoting religious freedom in the face of such discouraging developments, affirming that religious freedom is "not a second or third or fourth class concern that can be bargained away."
In addition to his role at the commission, George is also the McCormick Professor of Jurisprudence at Princeton University and has authored books on the defense of marriage, unborn human life and political philosophy.
Reflecting on the current state of international religious freedom, he noted that nearly 75 percent of the world's population lives under regimes that violate the religious freedom of worship and expression for religious minorities "or standby while mobs and thugs and terrorists persecute and harm people with impunity."
He pointed to the persecution of minority Muslim communities, Yazidi and Christians in Iraq and Syria as examples of worsening social and political instability driving persecution, as well as continued oppression in countries such as Iran, China, Pakistan, Nigeria and Cuba.
Zeroing in on Iran, George said that President Hassan Rouhani has not made any significant progress in expanding religious freedom in the country, maintaining the captivity of American pastor Saeed Abedini and failing to lift the death sentence of Ayatollah Hossein Kazemeyni Boroujerdi, who had called for a separation of religion and politics.
The imprisonment of the ayatollah is an example of the persecution of Muslims whose views differ from a region's norm or who do not espouse extremist interpretations of Islam, George said.
"We shouldn't assume that just because people are Muslim doesn't mean they're the oppressors and never the oppressed."
"Many of the victims of Islamist oppression are Muslims," he explained, adding that often Muslims are the "ones standing up for human rights" in areas facing persecution of religious minorities.
"I want the American public to understand this," George said, pointing to the example of Muslims in Egypt who have protected Coptic Christians, forming "rings around Christian churches not to persecute them, but to protect them against being attacked by the radicals."
George added that he is very concerned about the situation in Europe as well, given a rise of "radical secularism" in the region "that does not bode well," particularly for Muslim and Jewish communities.
Countries across Europe, he noted, have seen a rise in secular extremist activity and have also begun to restrict religious expression and dress. Some of these countries have also enacted "more extreme" laws that forbid ritual practices such as Kosher or Halaal slaughter or bans on infant circumcision that are integral to community life and religious identity.
The case of circumcision, he explained, is especially important for the maintenance of Jewish communities because of its place as "an essential, non-negotiable practice that goes back to the Jewish covenant with God made by Abraham."
"Devout Jews simply cannot live in a polity that forbids them from practicing male infant circumcision," George continued. "If this were carried out and enforced, this would mean that there would be areas where Jews, for all intents and purposes, are forbidden to live. To imagine that happening, is a nightmare."
However, George said, the worsening state of religious freedom should encourage rather than discourage action to promote religious freedom around the globe.
"Far from demoralizing us, these facts should motivate us to rededicate ourselves to the cause of religious freedom, and fight even harder in the international domain," he pressed.
"It's got to be given a higher priority in our foreign and diplomatic policy," George urged, saying that while there are other important issues such as trade or political diplomacy, religious freedom "is a first-class issue."
George also spoke of the need to "put pressure on our own government to use the resources available to it" and to "to put pressure on the offending regimes" to improve religious freedom in offending countries.
"We can do that. We have seen that work in the past," he stated.
Posted Oct. 23, 2014