Renovated archives wins historic preservation award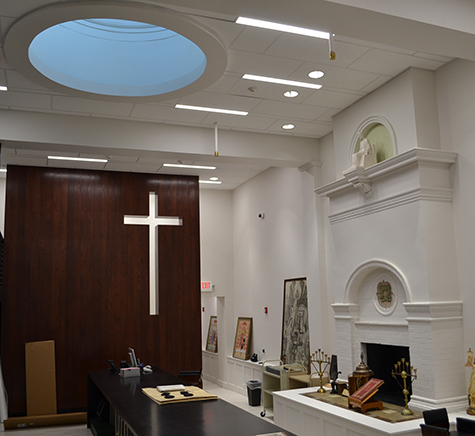 Historic preservation of buildings tends to happen in one of two ways. Either a building is painstakingly restored to its original use and function, or it is adapted to serve a new purpose.
The Archdiocese of Cincinnati Chancery Archives building located at 25 E. 8th Street in downtown Cincinnati has won an award for its efforts in accomplishing the latter.
Take a video tour of the archive
The archives renovation was one of 14 projects in the greater Cincinnati area honored Nov. 8 by the Cincinnati Preservation Association (CPA). The archives was honored with the Rehabilitation Award for repurposing the 165-year-old building. Once home of the Literary Club of Cincinnati — with members like Rutherford B. Hayes and William Howard Taft — the building has served many functions over the years. Before becoming home to the archive, it had been a television studio owned by the archdiocese.
"We are very honored and excited to earn this award," said Jeff Bohrer, director of property management and real estate for the archdiocese. "We felt we had something very special in the design and renovation of the archives building, and being recognized for the efforts is very validating.  Our architect for the project did amazing things to blend the historic building architecture with modern day energy efficient design, and our contractor turned the facility into a space we are all very proud to call the archives."
The rehabilitation preserved many core pieces of architecture and design while giving the building a modern aesthetic.
"It was just an exceptional project," said David Muller, executive director of the CPA. "Sometimes we give this for the renovation of a building being historically accurate, and sometimes its for an adaptive reuse that takes an old building into a new set of uses and a new life. That's was this project was."
The building now features state of the art HVAC systems and other upgrades  to best preserve its treasures, but it also maintained an ornate fireplace and skylight that were part of the original design.
"They did a very sensitive job of restructuring the internal space but keeping a sense of the original historic architecture," Muller said. "That's what our jury was most impressed with. That wonderful balance."
The Archdiocese of Cincinnati archives building was designed by architect Chip Williamson and Chameleon Architecture.