Rescuing the Moments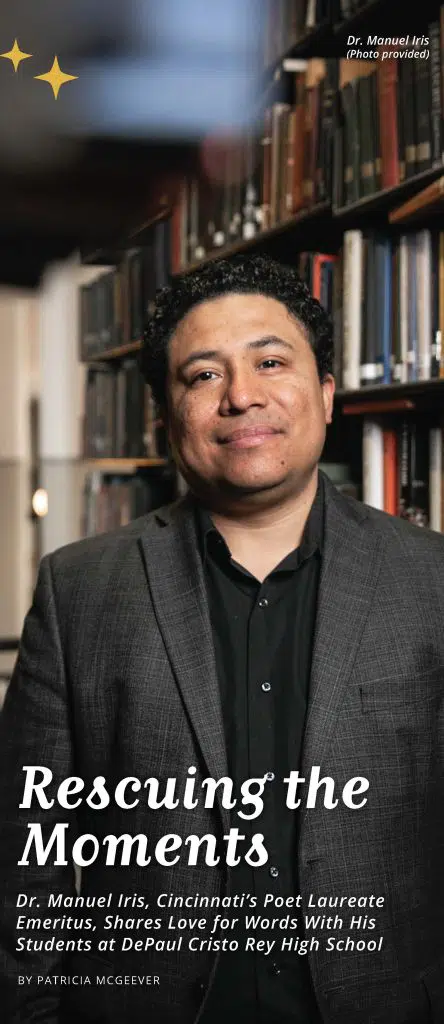 Words on a page are like flowers in a garden. They can blossom into a thing of beauty. When they come from the pen of poet, Dr. Manuel Iris, they can create a bouquet of love and light. He recently released his sixth book of poetry, The Parting Present/Lo Que Se Irá. It's his first book published in the U.S. and Mexico simultaneously. The collection of poems is more personal than in his other books as he reflects on becoming a father and living through the pandemic. It's dedicated to his daughter, Olivia, who was born in Cincinnati in 2018.
"This book was to rescue those moments I didn't want to forget," said Iris. "This book was also some sort of a letter because I didn't know if I was going to survive the pandemic and I wanted my own voice to tell my daughter that I love her. The only device I found that I could do that successfully was poetry."
Iris said he realized words were important in his life when he was just a child and his father brought home a dictionary. He devoured the words and definitions in it. Iris began writing seriously when he was in high school after receiving encouragement from teachers. He won a national poetry award in Mexico when he was 19 and published his first book when he was very young.
"Writing is not a side gig for me. Writing is the center of my life," said Iris.
Now, he's a teacher, sharing his love and the power of words with seniors in his English Literature class at DePaul Cristo Rey High School where he also serves as the Hispanic Outreach Coordinator. He is a bridge between the students and their Spanish-speaking parents.
The school had one Hispanic student when it opened in 2011. Now, Hispanic enrollment is at 21-percent. One of the poems in his new book is dedicated to a migrant father and daughter who drowned together trying to cross the Rio Grande.
"It was impossible for me to see this man and his daughter and not to think about me and my daughter, who have the same skin color, come from the same country with completely different stories," said the Mexican-born poet.
Iris says he writes about things, never against things. He writes about love and unity but admits that poem was written with fear.
"The fear that one day I'm going to have to explain to my daughter that some people don't think that she should be equal to others, and that she should be careful. This is a conversation that some parents have to have with their kids and others don't. I wrote this poem to start the conversation later."
Iris writes first in Spanish, then translates his poems into English. Sometimes, he likes the English version better and edits the original. He says he's trying to take down boundaries he has with the English language since it will be important in his daughter's life. He writes about it in the poem "The Language of the House."
"I end that poem saying if someone asks you where you are from, say you came from your father's heart."
After earning a B.A. in Latin American Literature from the Autonomous University of the Yucatán, Iris earned a Masters Degree in Spanish from New Mexico State University and his Ph.D. in Romance Languages from the University of Cincinnati. He is Cincinnati's Poet Laureate Emeritus (2018- 2020) and calls it one of the greatest honors of his life.
"The city of Cincinnati welcomed me with open arms and a lot of love, and I'm never going to forget that, and I will spend the rest of my life trying to be worthy of that love and that honor."
This article appeared in the August 2021 edition of The Catholic Telegraph Magazine. For your complimentary subscription, click here.