Retired teacher pens children's' book about mission trip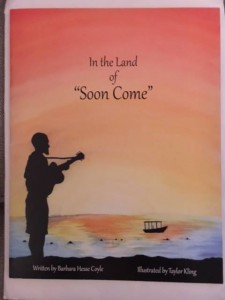 Barb Coyle, a retired religion teacher who taught at Roger Bacon High School, has written a children's book based on her experience starting a mission trip to Negril, Jamaica.
In less than 30 pages, and with illustrations provided by 14-year-old Taylor Kling, Coyle takes the story from the time she heard God call her to "Go and take the kids," to lessons she learned from the people of Negril.
The self-published book is called, In the Land of Soon Come, Proceeds from the sale go to the the Franciscan Mission in Negril, Mary Gate of Heaven Catholic Church. Books cost $15 and can be ordered via email from [email protected]
The title comes from a Jamaican phrase she heard often that reflects the local culture. Jamaicans, Coyle said, place a different value on time than American's do. Soon come could mean see you tonight, see you tomorrow, or even see you someday.
The book introduces children readers to life in Negril, and to the kind of work missionaries perform there.
"It is intended for children to introduce them to a culture that isn't their own, and to plant a missionary seed in their hearts," Coyle told The Catholic Telegraph.
Coyle will be hosting a book signing from 6:30-8:30 p.m. May 31 at Roger Bacon's new Friars' Club, 4300 Vine Street, St. Bernard, Ohio, 45217. Francisan Father Jim Bok, pastor of Mary Gate of Heaven, and illustrator Kling will also be present.
Learn more at Facebook.com/landsooncomebook.