Roger Bacon staffers rappel down Cincinnati office building for Aubrey Rose Foundation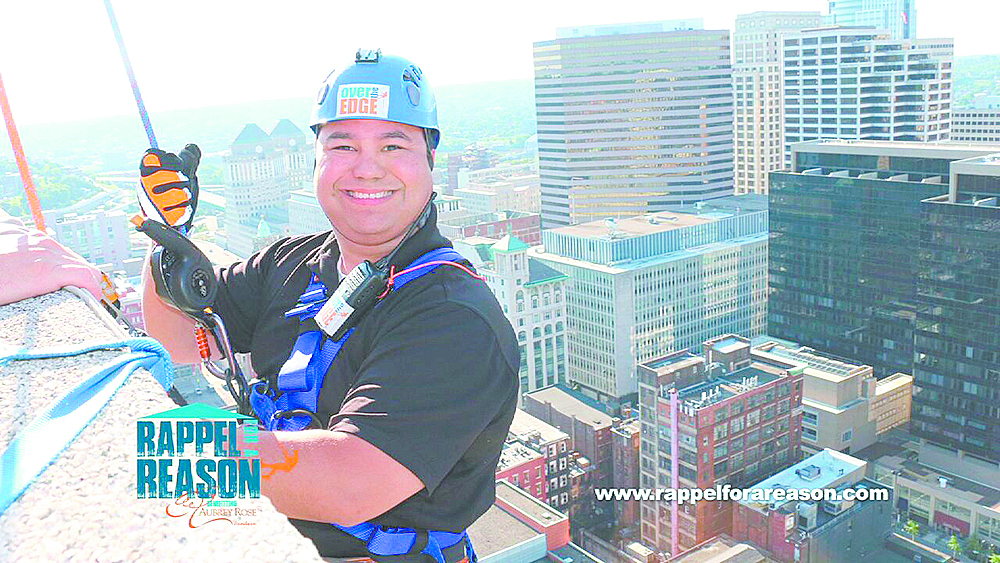 After raising nearly $3,000, Franciscan friar and theology teacher Father Roger Lopez and admissions staffer Alyssa Flading rappelled down a 26-story Cincinnati building as part of the "Rappel for a Reason" event sponsored by the Aubrey Rose Foundation.
A new charity event for the organization that raises money for medically fragile children, Rappel for a Reason challenged people and organizations to raise significant funds to earn a chance to rappel down the 7th Street Building. Father Roger earned the fifth-highest amount of all participants, at $1,7841. Flading earned $1,100.
All $54,560 raised by participants will go to help families of critically ill children with medical expenses. The Roger Bacon colleagues were introduced to the Aubrey Rose Foundation through Molly Hamilton, a student who received a scholarship from Foundation for her freshman year.
After a short introduction to rappelling in the building's stairwell, Flading and Father Roger went over the edge. Family, friends and co-workers greeted them once
they reached the ground, safe and sound.