Glenmary sends two off to mission – at home
By John Stegeman
The clanging of a mission bell echoed over the hills of Glenmary Home Missioners Headquarters in Cincinnati Aug. 25 as two novices left to begin the mission-placement portion of their novitiate year.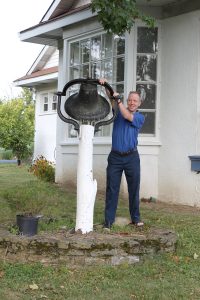 Matt Solarz, a priesthood candidate from North Olmstead, Ohio, will serve at Glenmary's Holy Family Mission in Lafayette, Tennessee. Brotherhood candidate Josiah Kimani, who is from Nyahyruru, Kenya, is assigned to Glenmary's St. Teresa of Kolkata Catholic Church in Maynardville, Tennessee.
In Layfayette and Maynardville, like all Glenmary mission areas, Catholics are a minority group. Most people have no church affiliation and poverty is high. Thee second phase of the novitiate year helps the students prepare for their career as missioners.
"This is a way of recognizing and sending these men o to their mission assignments," Glenmary Father Dan Dorsey told an assembled crowd of Glenmarians and other well wishers. "The five-month mission assignment is a significant time. It gives the men a very good taste of what our mission life is like for an extended period of time. Our mission is unique. As we send them off, we do so with our prayers and blessing."
During the short ceremony, led by Glenmary's co-novitiate directors Father Dorsey and Father Tom Kirkendoll, both men received a blessed crucifix. The priests and all
in attendance traced the shape of a cross on the novices' foreheads. When the rite concluded, the mission bell began to ring. Solarz and Kimani got in their cars and drove away, with Fathers Dorsey and Kirkendoll blessing their vehicles with holy water as they passed.
"We pray this day, God, that you ll the hearts of these your missionaries, Matt and Josiah," Father Dorsey prayed. "Fill them with the Holy Spirit so that becoming all things to all, they may lead many to you, the Father of All, to sing your praises."
Both men's mission assignments run from Aug. 25 to Jan. 30, 2018, when they will return to their studies. Solarz and Kimani each hope to make their First Oath as Glenmarians next summer. e duo is among 15 men in formation studying to become Glenmary missioners.
The send-off with the mission bell is a Glenmary tradition whenever a missionary is leaving headquarters for a mission destination.
For nearly 79 years Glenmary novices studying to be priests and brothers have heard the bell ring as they left to experience mission life. It was brought from Glenmary's first location to its new Fairfield location in 1971.
Glenmary is a Catholic society of priests, brothers and coworkers dedicated to establishing a Catholic presence in rural areas and small towns of the United States where the Catholic Church is not yet effectively present. Glenmary Home Missioners gets its name from its original location in Glendale, Ohio, and from devotion to the Blessed Virgin Mary under her title Our Lady of the Fields.
Glenmary missioners serve in Cincinnati, Indianapolis, Covington; Jackson, Mississippi; Knoxville, Tennessee; Lexington, Kentucky; Nashville, Tennessee; Owensboro, Ken- tucky; Raleigh, North Carolina;Richmond, Virginia; and Savannah, Georgia. Are you called to be a Home Missioner, volunteer, or partner in mission? For information about a vocation to Glenmary, volunteer opportunities, and more, visit glenmary.org.