Royalmont Academy moves to new location
June 20, 2012
By Patricia McGeever
Summer vacation is just underway but the students and teachers at Royalmont Academy in Mason are excited about big changes for the upcoming school year. Royalmont will move from an eight-acre site at 723 Western Row Road to a 16-acre spread at the former Mason Heights Elementary School on Northcrest Drive.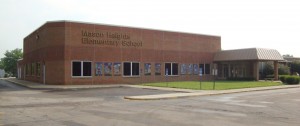 An agreement reached between Royalmont and the Mason City School District was announced at the June 12th Mason Board of Education meeting. The board is closing Mason Heights as part of a consolidation plan and Royalmont will lease the property for two years relieving the district of its operating costs. It has the option to buy the property for $1 million when the two years is up.
"We think it's providential. We've had so many cases where we thought we were going down a particular path that made sense and for whatever reason something got in the way," says Tony Ferraro, executive director of Royalmont Academy.
The deal benefits the Mason City School District as well. It saves taxpayers in Mason $50,000 a year for the cost of maintaining the building. It keeps the building, which is located deep within a neighborhood, occupied and vital to the community.
"It is gratifying to work with the leaders of Royalmont who recognized that this could truly be a win-win for both organizations, our community, and ultimately —and most importantly — for students," said Gail Kist-Kline, superintendent of Mason City Schools in a statement.
Discussions between the two sides began in February, but when it came time to make a move, the deal was made in a matter of days.
Royalmont Academy is a private, Catholic school with185 students in pre-school thru eighth grade. The move to the new building allows for the possibility of expansion to include grades nine through 12. Royalmont will now have a gym, an auditorium, a cafeteria and serving kitchen with all new equipment. There are plans to turn the media room into a chapel. There are courtyards and one in particular Ferraro sees as place for prayer. Science and computer labs are larger and already wired. The playground has equipment on it and there is a separate building for pre-school.
The building has 59 classrooms, far more than Royalmont can use right now. There is enough space that the Legionaries of Christ, a religious order of priests and the Consecrated Women of Regnum Christi a lay movement for women, can have offices on site. Both are affiliated with the school.
For now, Royalmont officials are working on a plan to make the move efficient while giving the Mason Heights staff some space to close out their operation and clear out their classrooms and offices. Royalmont staff will begin moving in next month. The time table will be tight, but Ferraro feels everyone will be ready when school opens in August.
"This had what we wanted, what we needed and the potential for expansion and kept us in Mason, so it just made a whole lot of sense," he said.