Rural-Urban Mass scheduled in northern part of archdiocese July 23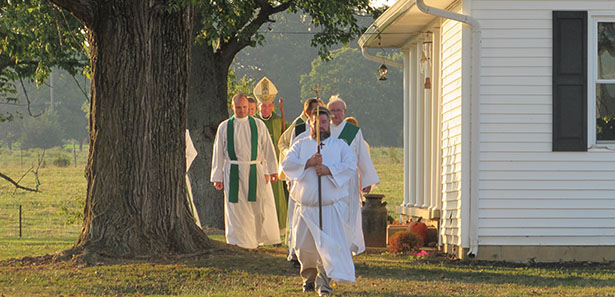 Report
A farming family in Botkins, Ohio, will welcome Auxiliary Bishop Joseph R. Binzer, as well as Catholics from the St. Mary's and Sidney deaneries to this year's Rural-Urban Mass, July 23, at 6:30 pm.
The bishop will say Mass at the farm of Joe and Joanna Goettemoeller, 13775 Lock Two Road, Botkins. Some seating will be provided, but individuals attending Mass should consider bringing lawn chairs.
At the Mass Bishop Binzer will present Catholic Century Farm Awards to 11 Catholic farm families who have applied for admission to the Catholic Century Farm Registry for the Sidney and St. Marys deaneries.  The award recognizes Catholic families who have continuously farmed the same land for 100 years or more.
Parishioners at Immaculate Conception in Botkins will offer refreshments following Mass.
The annual Rural-Urban Mass is an opportunity for farmers and the people who share in the benefits of an agricultural community to come together in a prayerful way to praise God for the blessings of faith, farm and family.
"Catholic Rural Life of the St. Marys and Sidney Deaneries plans the Rural-Urban Mass, alternating it between the two deaneries," said Vern Seger, Chair of Catholic Rural Life.
Catholic Rural Life serves Catholics who directly work in agriculture or live in communities supported by agriculture. Catholic Rural Life of the St. Marys and Sidney Deaneries also has offered Rural Plunges to university and junior high school students and adult faith communities in addition to the Rural-Urban Mass.
The local group meets in January, March, May, September and November on the second Monday of the month at 7:30 p.m. at the St. Charles Senior Living Community, 2860 U.S. Route 127, Celina. Call Pam Long, regional director of the Catholic Social Action Office, for more information, 937-224-3026, or email [email protected]
This article originally appeared in the July 2015 print edition of The Catholic Telegraph.