Sacred Heart Radio expands to Middletown, Dayton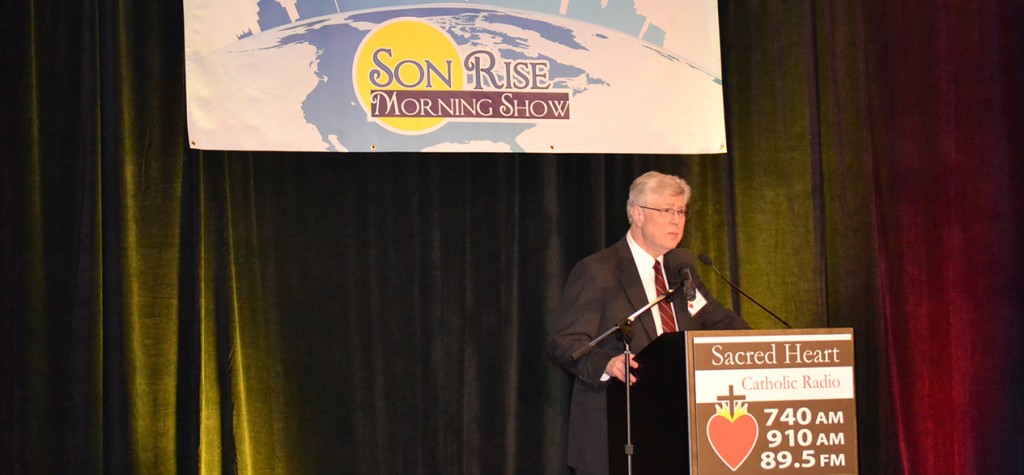 Sacred Heart Radio, a Catholic radio station based in Norwood, now has the ability to reach nearly 700,000 Catholics with the addition of its 910 AM frequency, which covers Middletown, Dayton and beyond.
The station, which is celebrating it's 15th anniversary, can also be heard in much of the Cincinnati, Northern Kentucky and southeast Indiana area on 740 AM and in Hamilton on 89.5 FM.
The new 910 AM signal extends as far north as Tipp City in Miami County, meaning Sacred Heart Radio's reach now covers more than half of the Archdiocese of Cincinnati's 19 counties.
With each expansion of the station, new challenges have arisen. In the case of 910 AM, Sacred Heart Radio General Manager Bill Levitt took to the airwaves to ask listeners to pray that the deal would get done, and that the new signal would be up by June 3 for the Feast of the Sacred Heart of Jesus. The prayers were answered, and one of the first things heard over the new signal was a Mass at the Holy Spirit Center with Auxiliary Bishop Joseph Binzer celebrating right on schedule June 3.
"It just goes to show you the power of prayer," Levitt said. "Going on to ask our listeners to pray for this puts them, as they have always been, in charge of this. As we've always said, Sacred Heart Radio is brought to you by you. Without their prayers, and of course their financial support, Catholic radio would not exist.
"It is an amazing story when you consider that it has not only existed for 15 years, but it has been able to grow and expand," he added.
Sacred Heart Radio is independent, not owned by the Archdiocese of Cincinnati. The station operates here and calls itself Catholic with the approval of the local ordinary, Archbishop Dennis M. Schnurr.
Archbishop Emeritus Daniel E. Pilarczyk was among the early supporters of the station 15 years ago. The Archdiocese of Cincinnati, through Archbishop Pilarcyzk and Archbishop Schnurr, has provided periodic financial support to the station. When the station needed $50,000 to help purchase the 910 AM signal, Archbishop Schnurr obliged.
"The archbishop gave us the $50,000 we needed," Levitt said. "This radio station is available to the archdiocese at any moment because needless to say, they're the official word as when it comes to what the Catholic Church teaches on everything."
Levitt said Bishop Roger Foys of the Diocese of Covington has also been supportive of the station, including with financial support.
Levitt said that while people sometimes speak of radio's decline, he believes that the medium is perfect for today's fast-paced world.
"Radio is definitely one of those mobile mediums," he said. "You can't do anything while you're driving but listen to something. Since everyone is going someplace faster than they should, it is wonderful to be able to have Catholic radio…The excitement in someone's voice, the fire in someones eyes when they approach you and say what Catholic radio has meant to heir faith journey … It is exciting to see that."
Sacred Heart Radio, which employs four full-time and 2 part-time staffers, broadcasts the SonRise Morning Show with Anna Mitchell each weekday from 6 to 9 a.m. with the first hour syndicated on 350 stations around the country through EWTN Radio. The station also broadcasts daily Mass from St. Gertrude in Madeira. The rest of the 24-hour-a-day programming is syndicated content.
Sacred Heart Radio is the largest provider of Catholic radio in the Archdiocese of Cincinnati. Radio Maria broadcasts on 88.7 in and around Anna, Ohio and 1600 AM in the Springfield-Dayton region. One parish, St. Mary Catholic Church in Hillsboro, operates its own radio station on 106.9 FM in that area.
———
This story is a TheCatholicTelegraph.com web exclusive. What's that mean? Certain stories appear across both our print and digital platforms  but others are available on just one or the other. This story is only available online.