Sacrifice in Marriage
My husband and I were exchanging ideas—sweets, alcohol, eating between meals. What to give up for Lent? On Easter I want to experience the deep, abiding joy offered through Christ's victory over death, which I know calls for a sacrifice that asks a lot of me. As I opened my mouth to say exactly this, I realized my answer was quite literally in front of me. I need to give more of myself to my husband.
Marriage is my life's work, my greatest call. A priest told us, "Your vocation is not to a general idea of marriage; it's to Andrew. And God will call to you from within that vocation." Marriage is my path to Heaven; so, I'm focusing my sacrifices and efforts on seeing that the Lord Himself designed us to be conduits of love and mercy to each other, which is made possible by imitating Christ.
With this in mind, here are some sacrifices, mindset shifts and efforts for married couples to offer during Lent to make a gift of self to Jesus through your sacramental marriage.
GO TO MASS DURING THE WEEK.
Encounter Jesus together. He is not only the source and summit of the Catholic faith, but also of your relationship. In times of peace or trouble, my greatest consolation has come when Andrew and I were together in front of the Eucharist.
Meet during lunch at a nearby parish. If you can't visit as a couple, bring your spouse's intentions with you before the Lord; as Andrew's wife, I'm his designated intercessor.
HELP EACH OTHER GO TO CONFESSION.
Sin always gets in the way of trying to be and do good. Make a plan to go to Confession monthly as a couple and/or family, and treat it as an unbreakable appointment. The graces that flow from the Sacrament of Reconciliation are abundant, powerful and ours for the asking! A clean heart makes for a greater ability to imitate Christ to each other.
ANTICIPATE HIS/HER NEEDS.
Are her keys in a spot where she doesn't keep them? Put them away. Do a load of laundry or clean the bathroom counter. Help make life at home peaceful for each other, so it's a soft place to land rather than a point of frustration.
ASK "WHAT CAN I DO TO MAKE YOUR DAY BETTER?"
Put the answer at the top of your To Do list and make it happen. I admit this is a tough one because we tend to guard our time; but willingly handing over our energy and time for the other helps us realize that "we" are bigger than "me." Simultaneously, we each feel seen, supported and loved by the other.
PRAY TOGETHER.
It doesn't have to be complicated, just honest. If you don't pray together already, begin with one Glory Be prayed in unison. If you already pray together, add another way to be with God, like the Rosary or Chaplet of Divine Mercy. If you want to increase your spiritual intimacy, pray over each other out loud—speak to Jesus about your spouse and let him/her listen.
FAST.
Abstain from something—cream and sugar in coffee, snacks, butter on toast—and make it a prayer. Offer small sacrifices specifically for your spouse's salvation and well-being.
But what if only one of you is willing to do any of the above? Then go to Mass and Confession on your own. Pray faithfully, never ceasing to bring your spouse and relationship to God. Jesus is the Author of your particular marriage and wants to be invited into it to strengthen you both, which means making room for Him to work.
When we repeatedly present ourselves to God in Mass, Confession and prayer, we receive divine strength to love and sacrifice in our marriages. Then, on Easter, after having spent weeks putting to death our own desires for our spouse's sake, we will experience deep joy from doing so with the Lord.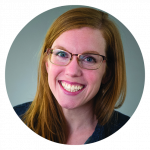 Katie Sciba is a national speaker and Catholic Press Award- winning columnist. Katie has been married for 14 years and is blessed with six children.
This article appeared in the March 2023 edition of The Catholic Telegraph Magazine. For your complimentary subscription, click here.