Safe environment coordinators gather for conference hosted by Diocese of Covington and Archdiocese of Cincinnati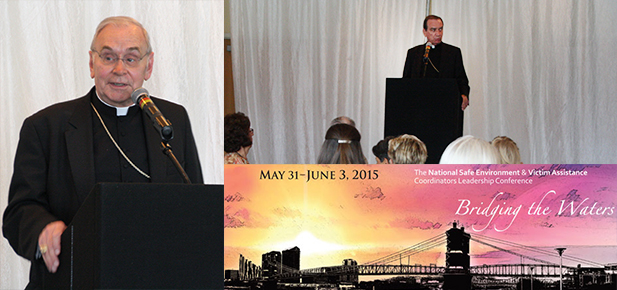 Messenger Staff report
"I am very grateful for all the work you do," said Bishop Roger Foys at the opening reception, May 31, of the 2015 National Safe Environment and Victim Assistance Coordinators Leadership Conference. "You know as well as I do, even better than I do, that our work is not done. We have to keep moving forward so that our churches, our schools, all of our institutions, can be safe havens for children and vulnerable adults of any age, at any time, at any place. That will come, it will take hard work and it is part of our work."
Over 125 safe environment coordinators and victim assistance coordinators from 85 U.S. dioceses attended the conference which was held May 31–June 3 at the Embassy Suites, Covington, Ky. The conference featured speakers addressing topics such as Canon Law issues, overcoming children and parent objections to training, combining a pastoral and legal response to allegations, building highly reliable cultures in parishes and schools and also, the balancing act of nurturing yourself while nurturing others.
Also, during the conference attendees had the opportunity to attend Mass, receive the sacrament of reconciliation and speak with a spiritual director. The Archdiocese of Cincinnati and the Diocese of Covington co-hosted the conference.
At the opening reception Archbishop Dennis Schnurr reflected on how the Church has come to view and respond to pedophilia based on his experience and work as a staff member of the Apostolic Nunciature, Washington, D. C. and the United States Conference of Catholic Bishops (1985–2001)
"I remember in 1985, in the report that I wrote, that there were still conflicts in the psychological area that there was a cure for such behavior. By 1989 the decision was that there was not a cure, but there was a treatment. By 1992 the decision was that there really wasn't a treatment any longer. The whole science, the whole psychology, underlying this phenomena of pedophilia had changed."
Archbishop Schnurr said that in 1992 the USCCB had encouraged dioceses to establish particular policies to define and establish safe environment protocols. Many dioceses, he said, did, but many others did not. With the 2002 release of the USCCB's Charter for the Protection of Children and Young People, commonly referred to as the Dallas Charter since the historic meeting was held in Dallas, every diocese in the United States has established norms and procedures for creating a safe environment.
"In 2002, with the Dallas Charter and because of your work, your dedicated work, we have come a long way. The Catholic Church in many respects have led the way in what must be done to provide a safe environment for our children, a safe environment in all of our institutions, and you have played a very, very important role," said Archbishop Schnurr.
Since his first days as bishop of Covington, Bishop Foys said he has ministered to the survivors of child sexual abuse by priests and that the experience has had a "profound effect" on his life.
"I offered every victim, every survivor to meet with me. As of today I have met one-on-one with about 175 victims and it has really changed my life, in how we respond to survivors and how we respond to perpetrators. Amazing, to sit and just listen mostly. Everyone has their own story and often times I cried with them — you know that because you work with survivors too," he said to the coordinators. "I am very grateful for all the work you do."
Archbishop Schnurr said that while the Church has come a long way in creating a safe environment for children and vulnerable adults, the work is never done.
"We are going to continue, we have to continue to be vigilant, we have to continue to always look at what it is we are doing and what we can do even better because when it comes to the safety of our children we can never do enough," said Archbishop Schnurr.
On June 1 Deacon Bernie Nojadera, executive director, Secretariat of Child and Youth Protection, spoke to the coordinators.
"Those of us who have sat face-to-face and heard the stories and have been privileged to be allowed to enter into a victim's experience know and understand why we are on this journey," Deacon Bernie said. "We end up becoming the voice for those who don't have a voice. We end up becoming the resource for those who don't know where to go or who to turn to.
"… Our work in child protection is about being on a journey with each other and I think it is a journey of love," he said. "I also think it is about evangelization … You are the face of Christ attending to those who are most in need," he said.
Posted June 9, 2015
Republished with permission of The Messenger, Diocese of Covington