Saint Ursula Academy Students Win National Service Award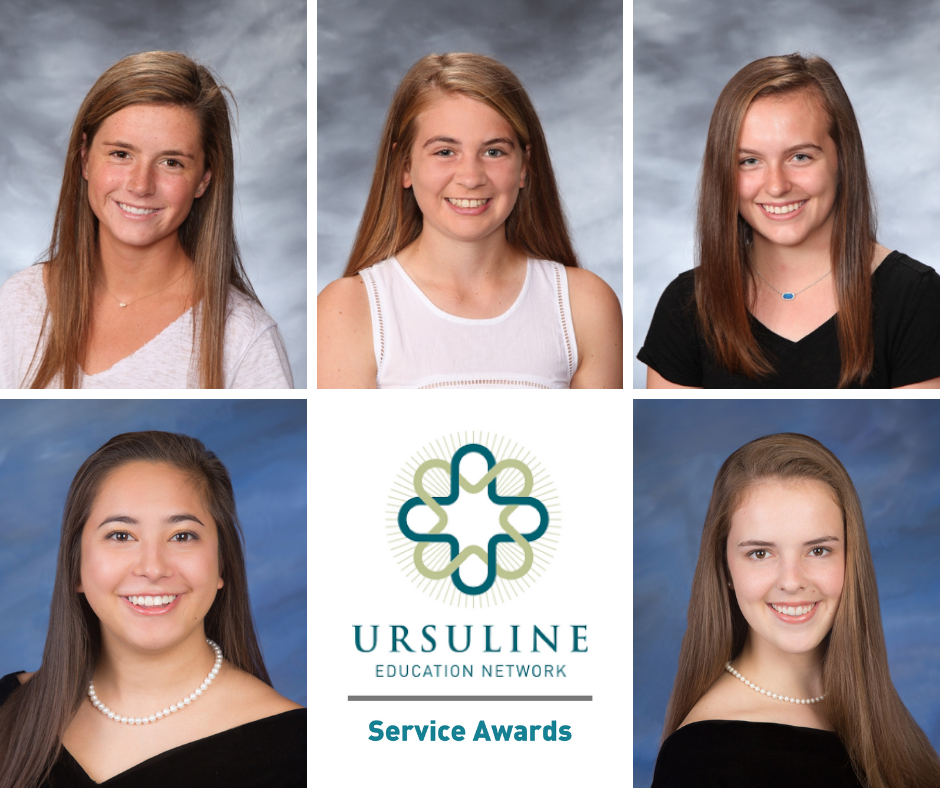 Saint Ursula Academy  announced five students were selected to win the Service Award from the Ursuline Education Network (UEN), the national organization that connects all of the Ursuline schools in North America. Nominations are reviewed by UEN and winners are named each winter.
The students selected this year are:
Josie Buendia '19 of Anderson Twp.
Annalese Cahill '19 of Crescent Springs, KY
Meg Fagel '20 of Anderson Twp.
Alivia Hyland '21 of Downtown Cincinnati
Sam Kessler '20 of Bridgetown
Nominations of Saint Ursula students were submitted by Rachel Kemper, SUA Community Service Learning Coordinator. Below, in her words, are the reasons she nominated each of these winning students.
Josie Buendia and Annalese Cahill were nominated because they live out the ideals of the Saint Ursula Academy mission statement: "empower each student to become a woman of faith, integrity and courage committed to building a better world." Josie and Annalese embody this ideal! I have witnessed their growth over the last four years as they led their peers in service of those marginalized in our community, as well as educating their peers about issues of justice. Both of these young ladies have been actively involved in outreach and service work. They both also participated in our summer mission/immersion program.
Annalese has poise and confidence that is unique because not many students feel comfortable and confident in their own skin at this age. Annalese went on the South Dakota mission trip to learn about issues of justice affecting the Native American tribe on the Pine Ridge Reservation. Josie went on the Nicaragua immersion trip and has advocated so beautifully for the women and children she met, as well as issues of ethical purchasing and how it impacts local farmers in Nicaragua. Josie is committed to her causes and is willing to speak out and challenge others even if it is not the accepted topic of discussion.
The reason they were nominated them for UEN recognition, however, is because of their participation in the United Nations Trip in Spring, 2018 and their subsequent presentation to adults from around the nation during the UEN Social Justice Conference this past September. The poise and leadership of these young women to share what they learned at the UN about the status of women across the globe was impressive. The fact that they presented to adult professionals from multiple Ursuline schools was inspiring. It truly motivated all of us who attended. Due to their presentation and their passion, two additional schools are taking a group of their students to the UN to be a part of the Commission on the Status of Women in March 2019.
Both Annalese and Josie listen to their hearts, follow their passion and fully commit to whatever they decide to do. Josie and Annalese are insightful and dedicated young women expanding their awareness of others, looking beyond the first impression and truly becoming agents of change.
Josie and Annalese describe their service: Adding a Broader Perspective to the Conversation, "As students of Saint Ursula Academy, they are inspired every day to be leaders and advocates in their community. The 62nd Commission on the Status of Women at the United Nations Headquarters in New York City was an incredible experience that gave us the opportunity to do this on a much larger scale. Throughout this life changing week, we met with many women from around the world who taught us how we could bring information back to our communities and change the conversation about women's rights on a local, national, and global scale. We observed that although the experiences of women around the world may look different, the underlying cause of the inequalities and hatred of women are the same. The experiences we were able to bring back to the Greater Cincinnati area have inspired us to share our knowledge about the progression of the UN's sustainable development goals and the gender equality movement."
Meg Fagel was nominated for her commitment to Saint Ursula's after school tutoring program called Bulldog Buddies. This program pairs a Saint Ursula student with an elementary school child who is struggling in one or more subjects. Meg has the flexibility and patience to stay calm in difficult situations and to connect in a personal way with the child she tutors. She has been a leader for our program for the last two years. It has been wonderful to see her take responsibility and lead by example with the other girls who tutor at her site. Meg is also a member of the Student Outreach Services (SOS) Leadership Board at Saint Ursula. The SOS Board is made up of students who choose an agency at which to serve and then lead others in this service. Meg took on a new service site this semester and she has been recruiting other students to join her. Meg has been patient as details of this new site have been slow in coming and the role of volunteers is still being developed. Her steady presence has been an asset to her peers. Meg is dedicated and consistent with her effort. Her organizational skills and her relaxed demeanor inspire others to give of themselves!
Meg describes her service, "I'm the one who learns the most throughout my years at Saint Ursula Academy and volunteer work has played a big role in shaping me into the person I am today. The first service activity I was involved in at SUA was being a counselor at Stepping Stones, a day-camp for people with special needs. Stepping Stones changed my perspective of the world. It was Stepping Stones where I learned that when I do service work, the people I am working with teach me more than I could ever teach them. The campers at Stepping Stones taught me to grow through my struggles, rather than let them push me down. They taught me how to love everyone and look beyond appearances. Similarly, they taught me how to love myself and to be happy about the person I am. Another volunteer service I am involved in at Saint Ursula is Bulldogs Buddies. I have been a tutor for the past 2 years, and I have truly enjoyed it. I never thought I could learn so much from helping children with their homework. Creating relationships with different children has been a wonderful experience and I look forward to how it will continue to help me grow. I am blessed with many opportunities in my life, and the least I can do is give something back to the community. Volunteering has helped me realize how great it feels to give back, and that the smallest act can make a huge difference. There are so many different ways to get involved within our community, and I have found that service is my passion. Service helps me escape from the busyness of life and live in the moment."
Alivia Hyland was nominated for her service in our Bulldog Boost Fair Trade Coffee Shop. Last school year, a group of students submitted a proposal to the school's administration to start a Fair Trade coffee shop in our student center. The proposal was approved and since last November, the students have run a Fair Trade coffee shop that offers coffee, hot cocoa, and fair trade chocolate bars. Our mascot is a bulldog, so the name Bulldog Boost was chosen because the caffeine gives you a boost and purchasing fair trade products gives those growing and processing the cocoa and coffee a boost.
Alivia became active in working in the Boost as a freshman and applied to be a leader for this initiative as a sophomore. It amazes me that she is only in her second year at Saint Ursula because of her poise, organization, and willingness to put herself out there to educate the school about fair trade and the benefits of ethical purchasing. Her leadership and her efficiency has allowed the Bulldog Boost Coffee Shop to thrive. This semester alone, the Boost made over $600 in profit.
Alivia recently led her peers in a discussion to decide where to donate the profits. They have committed to supporting various projects through Kiva microlending, with a focus on empowerment of women.
Alivia describes her service, "Seeing the big picture over the past couple years, I have discovered immense personal enjoyment by enriching my community through service, learning more about varying cultures, and being able to help people who are in need of assistance. As a member of the swim team, I overheard one of my teammates discussing a new organization within Saint Ursula called the "Bulldog Boost". I was immediately intrigued and decided to learn more about this new opportunity. I discovered that it was an addition to the Social Justice Club, and also that the students were planning to sell Fair Trade coffee and chocolate in order to raise money to add to our mission collection. I decided at that very moment to volunteer for this wonderful organization. On my first day volunteering at the Boost, I learned that volunteering was not only for the purpose of aiding those in need, but also to make a difference in the world! It was so enjoyable to encounter new people and have fun, while giving back to my community. Towards the end of the year, I decided to join the Social Justice Club and sign up to be a leader for the club for the upcoming year. We opened up the shop for the first time and numerous students proceeded to buy the coffee, hot chocolate, chocolate bars, and bracelets. Since then, our sales and donations to mission collection have flourished, reminding me of the importance and joy of giving back to the community."
Sam Kessler has become a quiet, effective leader in our service programs at Saint Ursula. In her freshman year she was asked to step into a leadership position in our Student Outreach Services (SOS). The SOS Board is made up of students who choose an agency at which to serve and then they lead others in this service. These positions are usually held only by junior and senior students. However, in elementary school Sam had volunteered at St. Boniface Food Pantry. She and some older students wanted to create a monthly service opportunity at St. Boniface Food Pantry for other SUA peers. As a result, Sam became the first freshman leader in SOS!
She has proven that she can effectively and consistently organize her peers, communicate the necessary details to them, and serve with humility. We have appreciated her initiative, flexibility, and her willingness to step out of her comfort zone and lead others, even those older than herself. She had the prior knowledge of the service site and the commitment to the mission of St. Boniface to make it work. We are so proud of her work and her growth as a leader in our service department over the last three years!
Sam describes her service, "Never too young to lead and serve. When I was a freshman, I had the privilege of becoming a leader for the Saint Boniface Food Pantry. At that time, the pantry was not part of the SOS club, so our group only had two other members. I was asked by my friend Lydia Widener to help run the club because she was a senior and she wanted to ensure that the club would keep going after she graduated. I was comfortable taking on this position because I had been going to the pantry for the previous two years with her family. Being a leader as a freshman was a good experience for me. It challenged me to talk to new people, which I would not have done if I wasn't the leader. The task of being a leader revealed to others and myself that I had the ability to communicate with other people and direct their work as needed. Volunteering at Saint Boniface has enriched me as a person. The people who go to the pantry might not have everything that I have in my pantry, but to them that is not what is important. What is important to them is always having a smile on their faces and positive attitudes and I see that every time I go to volunteer. I leave a happier person than I was three hours before when I arrived at the Pantry. I believe that the people I have helped in my many years of volunteering at Saint Boniface have helped me more than I have helped them.'
Saint Ursula Academy is a Catholic, college-preparatory, secondary school for young women known for academic excellence and rich tradition. Saint Ursula welcomes students from more than 90 grade schools in the Greater Cincinnati area. The Academy is recognized by the U.S. Department of Education as a Blue Ribbon School. The campus, located at 1339 E. McMillan Street in East Walnut Hills has been the home of Saint Ursula Academy and Convent since 1910. The Class of 2018 earned college scholarships totaling more than $21-million.