Sainthood Here and Now
As Catholics, we love our saints. We have a patron saint for just about everyone. Barkeepers (St. Amand), fireworks manufacturers (St. Barbara), mule drivers (St. Limbania) and dog handlers (St. Hubert of Liege) all have their designated saints. Name an occupation, medical condition, state in life or source of difficulty and there's a saint who has been there and done that.
It's encouraging to have all these patrons, but this can lead to confusion about what a saint actually is. Since they are from our history, we tend to think of sainthood achieved only after death, when the Church looks back on a person's life and confirms the presence of heroic virtue and the performance of two miracles.
But is that it? Does sainthood only mean living the best you can and hoping for some official recognition after the fact?
SAINTS IN SCRIPTURE

The Bible uses the word "saint" in two different senses. The typical sense refers to men and women in heaven who pray for us, such as, "the inheritance of the saints in light" (Col. 1:11- 12), the saints rejoicing in heaven (Rev. 18:20) and the saints with Jesus when He comes again (1 Thess. 3:13).
In the Bible, however, most saints are not the rarified few from a distant past, but still-living members of the Church. For example, Paul greets the saints in his letters (2 Cor. 1:1), advocates for their physical needs (Rom. 12:13), confesses to imprisoning them before his conversion (Acts 26:10), and acknowledges the Spirit who both helps saints pray (Rom. 8:26-27) and equips them for ministry (Eph. 4:11-12).
Those saints are his readers, the focus of his ministry. They are the Church and he loves them. And yet, a question remains: How can they be saints if they're not yet in heaven? How can you be a saint if you're still alive? Let's take a closer look at this word.
SAINTS ARE SINGLED OUT

"Saint" is our translation of the Greek word for "holy ones." In Scripture, to be "holy" is to be consecrated, or set apart, such as when God said to the Jews: "You shall be to me a kingdom of priests and a holy nation" (Ex. 19:6). Of all the peoples of the Earth, God chose the Jews to worship Him and make Him known throughout the world. According to Peter, the Jews' identity and mission are fulfilled in the Church: "But you are a chosen race, a royal priesthood, a holy nation, God's own people" (1 Pet. 2:9).
How do we enter this Church? Through Baptism! Once water is poured three times in the name of the Trinity, the baptized person becomes a "holy one," a saint, one set apart, and this new identity is a permanent one. Of course, we don't always live up to this identity. We must still work to overcome sin and grow in righteousness. That's why Paul wrote "to saints" reminding them to "be saints" (Rom. 1:7). Because, by the biblical definition, they were saints and, if you are baptized, so are you.
SEIZE YOUR SAINTHOOD

Sainthood, then, is both something we have and something we strive for, which can be hard to accept. We're not used to thinking of ourselves this way, but this is not just my weird interpretation of Scripture. This is also the Church's teaching, as the Catechism says, "The Church, then, is 'the holy People of God,' and her members are called 'saints'" (CCC 823). "What is the Church if not the assembly of all the saints?" (CCC 946).
Take up this truth. Strive every day to live up to your identity. Maybe, one day, you'll be the patron saint of The Catholic Telegraph readers.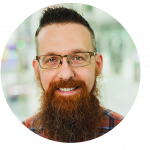 Nicholas Hardesty is the associate director of Adult Evangelization and RCIA for the Center for the New Evangelization. | [email protected]
This article appeared in the March 2022 edition of The Catholic Telegraph Magazine. For your complimentary subscription, click here.