Save the Date: Festival of Faiths at Cintas Center September 8 to Celebrate Religious and Cultural Diversity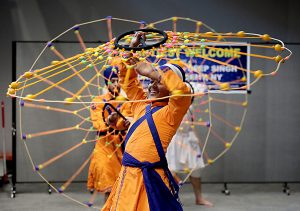 13 World Religions, 90+ Exhibitors, Free Activities for All Ages on Sunday, September 8
CINCINNATI –July 10, 2019 – Greater Cincinnati's second annual Festival of Faiths on Sunday, September 8, 2019 at Xavier University's Cintas Center will bring together neighbors, families, and spiritual leaders to celebrate the area's religious diversity. The afternoon (12:30 p.m. to 5 p.m.) will feature faith-based exhibits, dialogues, workshops, art, music, vendors, and activities for all ages. The event is free and open to the public.
Building on last year's inaugural festival which drew close to 2,000 people, Cincinnati's festival will showcase the many faith traditions of our region.
Organized by the Bridges of Faith Trialogue, the Festival is designed to:
• Promote awareness of Greater Cincinnati's religious diversity;
• Celebrate the variety of cultural contributions to our community's quality of life;
• Educate families about the world's religions, and
• Mobilize a broad interfaith coalition to address community needs and issues.
"The theme for this year's event is Compassion through Action: Becoming a Beloved Community in recognition of Dr. Martin Luther King's most compelling vision of a community in which people of different backgrounds recognize that we are all interconnected and that our individual well-being is inextricably linked to the well-being of others. " said Robert C. "Chip" Harrod, director of the Festival. "The event will also serve to unify our community, focusing on our similarities and celebrating our differences through music and culture (purely non-political) within a setting of over 90 diverse religious groups represented as exhibitors. Interfaith prayer/meditation and dialogue will be key elements of the afternoon."
Bishop Marvin Thomas Sr., CME Church, Sandy Kaltman, president of the local American Jewish Committee, and Maria Munir, a board member of the Islamic Center of Greater Cincinnati are co-chairing the Festival's Steering Committee.
"Religions worldwide contribute in many ways to the soul of a community – its values, mores, human relations, and ultimately its progress. Regardless of creed, religions universally lift compassion as a pathway to enrich spiritual and personal relationships that build a welcoming and vibrant community for all," said Maria Munir, Festival Co-Chair.
Over 90 exhibitors will greet the public from 12:30 p.m. to 5 p.m. at Xavier University's Cintas Center located at 1624 Herald Avenue, Cincinnati, 45207. Activities will appeal to all ages—children through adult. Parking is free. Admission is free.
To register for a free ticket, go to www.cincifestivaloffaiths.org
About the Bridges of Faith Trialogue
The Cincinnati Festival of Faiths is organized by The Bridges of Faith Trialogue. The Trialogue is a non-partisan civic organization founded upon interfaith dialogue that works to develop educational and community service programming to foster greater understanding, respect, compassion, inclusion and engagement for all people and faith communities in Cincinnati and beyond. Its programs and activities are informed by an ongoing conversation among Cincinnati civic leaders of the Christian, Jewish and Muslim faiths.