News from Badin, Lehman Catholic, Mercy, McAuley and Ursuline Academy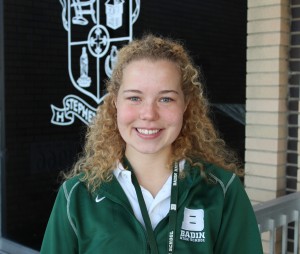 Badin High School senior Morgan Deitschel is a finalist for the "Straight A" Scholarship, sponsored by the Anthony Munoz Foundation.
"I was very surprised by this," said Deitschel, a Fairfield resident and the daughter of Charles Deitschel and the late Diane Deitschel. "My counselor, Mrs. (Angie) Bucheit, nominated me and didn't tell me. It's very exciting!"
For being a finalist, Deitschel has already earned a $2,000 scholarship from the Munoz Foundation, and if she earns the "Straight A" Scholarship, will earn an additional $3,000 dollars – a total of $5,000 – to the college of her choice
Morgan, a graduate of Sacred Heart School, plans to attend Ohio University and major in a health-and-sciences related field.
One girl and one boy will be awarded a "Straight A" Scholarship at the annual Anthony Munoz Foundation recognition luncheon at Jeff Ruby's Steakhouse in downtown Cincinnati on Tuesday, April 26. There are 18 finalists – nine boys and nine girls.
The "Straight A" Scholarship, according to the Munoz Foundation, recognizes students who are "pursuing Academic excellence, Athletic Achievement, and are Actively serving the community while possessing a strong Ambition, a winning Attitude and show the ability to overcome Adversity." They must carry at least a 3.0 grade point average.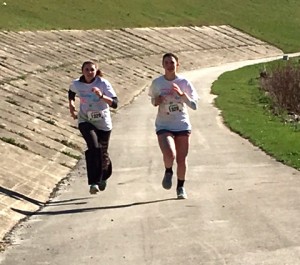 Results of Second Lehman Double Dash Announced
The second and final event of the Lehman Catholic Teen Leadership Corps Double Dash Color Run was held Saturday, April 2.  Despite the high winds and low temperatures, a number of eager runners and walkers met at Piqua Lock 9 for the 5K event.
The overall first place awards, regardless of age group, were earned by Evan Fogt, age 12, of Sidney with a time of 25:36, and Morgan Peltier, age 16, of Piqua with a time of 24:52.  These top male and female awards were donated by the Miami County YMCA.
Just like the first run held at Sidney's Tawawa Park on March 19, colorful trophies and certificates were presented to the top three male and top three female finishers in each age division.
The 10 students in the Lehman TLC have been busy planning and preparing for this duel event since November. Students were responsible for securing event sponsors, designing T-shirts and getting them printed, marketing the two events, planning refreshments, arranging for public contacts and insurance, developing registration materials, ordering awards, and organizing the day-of volunteers to insure that each event ran smoothly.
The students learned leadership skills in public relations, communications, business and financing, organization, and creative problem-solving. Most importantly, these teen leaders gained self-confidence in their own abilities.
The students are using the profits from the 2016 Double Dash to bring a nationally known speaker on youth leadership and motivation to campus next fall for an all-school assembly.
Lehman junior Emma Jacomet said, "It was interesting to see what it takes to put together a 5K and rewarding to see that all of our hard work paid off!"
The Teen Leadership Corps is a year-long academic course offered to Lehman Catholic juniors and seniors.  Students must submit a written application and essay in the spring of the previous year to be considered for acceptance into the class.  Because of increased interest, an interview for each candidate will also be required for the 2016-17 class.
In addition to Jacomet, the other members of TLC are seniors Sara Fuller, Allie Hall, Cassidy Hemm, and Kassie Lee, and juniors Eli Baker, Sidney Chapman, Hannah Fogt, John-Henry Frantz, and Kate Hemm.  The teacher and advisor for the group is Melissa Safreed of Piqua.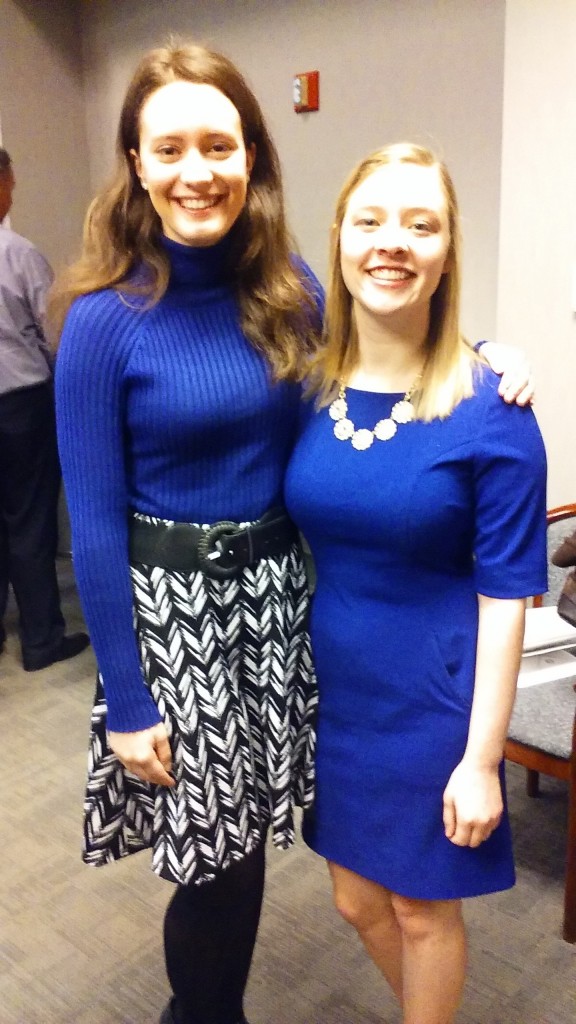 Two McAuley alumnae receive Xavier University Honors
On Saturday, April 9, Xavier University held their All Honors Day, including the Academic Honors Convocation. Two McAuley High School alumnae received awards.
Emmy Schwartz (on left in photo), McAuley class of 2013, received the Francis I. Hamel Psychology Award. This is awarded to a junior psychology major demonstrating excellence in psychology and outstanding academic performance.
Sarah Workman (on right in photo), class of 2012, received the Excellence in Accounting Award presented to accounting majors in their senior year, who have demonstrated excellence in the study of accounting.
Mercy to Host 'Senior Prom' for OTR Senior Citizens
Moved by their experience sharing and listening to the stories of Over-the-Rhine residents, the sophomore class at Mother of Mercy High School is throwing a "Senior Prom" for the residents of the OTR Senior Center on Monday, April 18.  The sophomores have been visiting the OTR Senior Center as part of their Sophomore Service Retreat for the last five years.  Each year, a new group of sophomores learns about the Over-the-Rhine community and how they can become more involved as part of the larger community of Cincinnati.
Because of budget constraints and the needs of the elderly, the Senior Prom needed to be held at the senior center and during the day.  So the group of organizers from Mercy decided to host the prom there — on their day off.  (April 18 is a professional development day for faculty.)  The students are providing the decorations, food and music… and are sure to join the seniors in the dancing.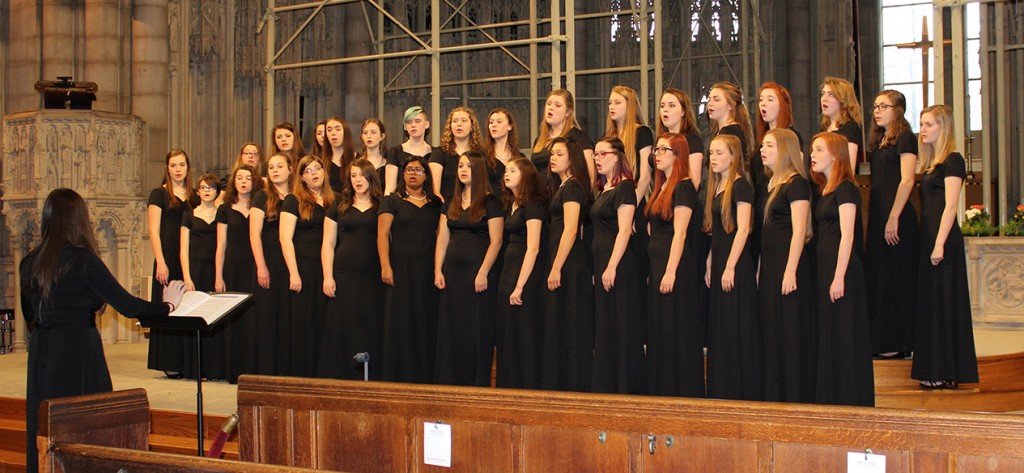 Ursuline Academy women's chorus earns gold
Ursuline Academy congratulates the members of Women's Chorus who earned a Gold Award at the WorldStrides OnStage Competition on April 2 in New York City.
Ursuline Women's Chorus, under the direction of Ursuline Choral Director, Ms. Amy Clark, performed in front of a nationally-acclaimed panel of judges and received the Gold Award, collecting an adjudicated score of above 90 percent. Women's Chorus was also awarded third place in their division for their performance and qualified for automatic invitations to perform in the National Invitational Festival of Gold and 2017-2018 National Youth Choir Festival at Carnegie Hall.
"We are very proud of the work our students put toward earning this award," Ursuline President, Ms. Sharon Redmond, said. "The opportunity to receive feedback from judges and work with professionals from around the country is invaluable in their growth as musicians."
The WorldStrides OnStage Competition brings together performers at 25 different cities across the globe. The competitions allow students to receive an unparalleled musical education experience, as well as compete with other high schools at an elite level. The competitions have been hosted for more than 50 years; they have taken over six million students on educational trips worldwide.
In addition to competing, during the trip students had the opportunity to visit the National September 11 Museum and Memorial, the Statue of Liberty, Ellis Island, and tour the Lincoln Center for the Performing Arts.
To submit news to TheCatholicTelegraph.com, contact New Media Editor John Stegeman.