School enjoys success, growth: Good Shepherd Montessori grows, marks milestone year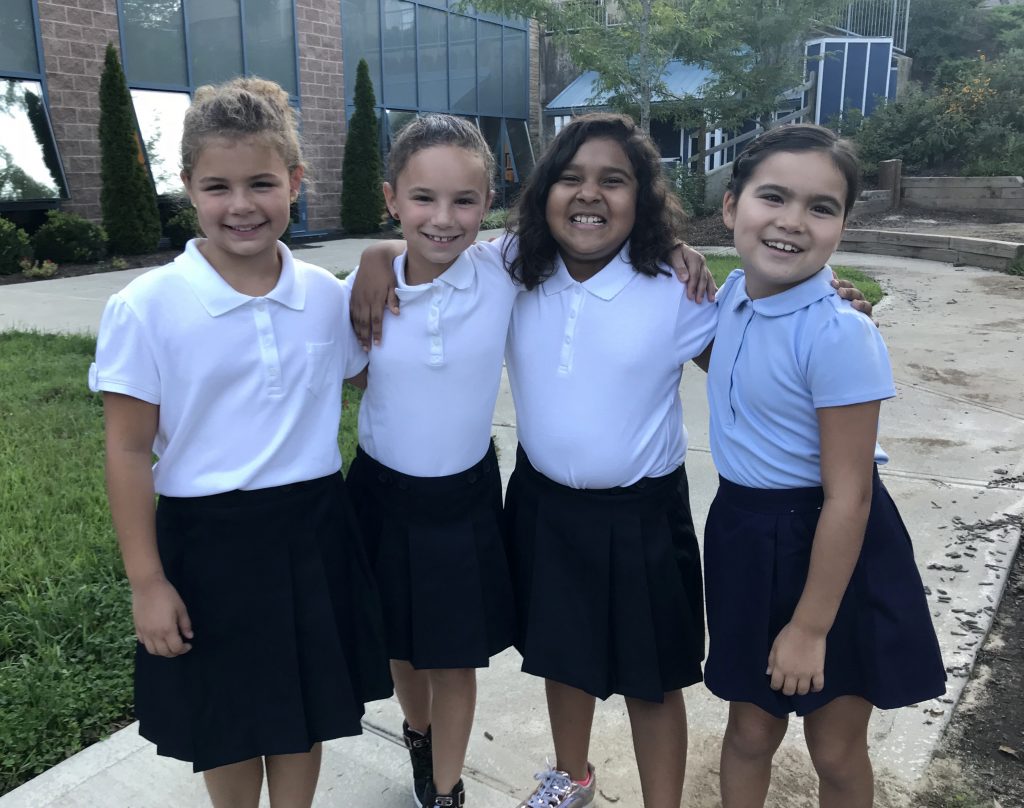 The 20th anniversary of Good Shepherd Catholic Montessori will mark the success of developing a highly successful Catholic elementary school in the Montessori tradition.
An Oct. 20 event will celebrate construction of a new building and renovation of the former Cure of Ars parish rectory into classroom space — testament to the growth of the Madison Place school located on the 13-acre site of the former parish.
Jana Widmeyer, development director, said the school is the brainchild of Dan Teller, a former Montessori teacher in North Avondale and past principal at St. Bernadette Catholic School in Amelia. Widmeyer ran a successful capital campaign to enable building construction. It has raised about $850,000 to date to improve bricks and mortar facilities to address needs of 218 students with a staff and faculty of about 40. "We are about maxed out," Widmeyer said.
The concept for the school at Berwick and Roe streets was developed by Teller, who continues to work at the school. "He has stepped down from the directorship," Widmeyer said. "His title now is facilities manager and he teaches the Catechesis of the Good Shepherd and works with our middle school students in their workshop."
Teller said "the concept of a Catholic Montessori school came to me while walking the halls of a parish school where I served as principal. I had recently left my position as a Montessori teacher, and felt a strong call to combine the richness of Catholic education and the brilliant pedagogy of Montessori education. The only question I had was how to do catechesis from a Montessori orientation. Then, I discovered the Catechesis of the Good Shepherd and all the necessary components were in place for the creation of a vibrant Catholic Montessori program."
Widmeyer said the $1.3 million construction/renovation project funds "a new building for our upper elementary students – fourth, fifth and sixth grades. We bought the old rectory and that is becoming our middle school. We have benefactors we are naming our upper elementary building for the Peter and Marilyn Bushelman Education Center." The new building cost was about $1 million with another $300,000 for the rectory project.
Tours of the buildings will highlight the anniversary celebration which begins at 4 p.m. with Mass in the school chapel, followed by a blessing of the new buildings and classrooms. The band Easter Rising will perform and a meal is planned.
Rachel Sabo, president of the Good Shepherd Catholic Montessori School (GSCM) School Board, said "with several long-term facility goals being realized, we have a great opportunity to grow awareness about the unique program at GSCM that combines the Catechesis of the Good Shepherd formation with a Montessori education. The parents, staff and students are incredibly thankful for the gifts bestowed upon our school and are excited to share with the community all that GSCM offers."
Principal Anne Marie Vega, who took the helm in July 2017, noted: "I have found a new home and a new family. The entire community from students, to parents, to teachers and staff, to friends and alumni are welcoming and caring. They strive to live out Gospel values each day and witness to the value of each individual person in the eyes of God. The students are confident learners who challenge themselves to use their God-given gifts to grow and mature in wisdom, age, and grace. I feel privileged to be part of it."
Some Catholic schools "are struggling," Widmeyer said. "We are really blessed to be here and to be flourishing. Geographically we have people who come from Northern Kentucky, Indiana, West Chester, Liberty Township, Georgetown (Brown County). They come from New Richmond. They come from all around. The majority are Catholic but not all. We offer preschool to eighth grade. Our graduates go on to public and Catholic high schools and colleges."
"Our aim is to provide quality Catholic education to people regardless of position. If you are in a low performing school district, you can get money from the state. It's not as much money as our tuition ($7,325 a year) so we eat it. Then there's a low income choice and we accept that too.
"We want to provide affordable education. If you compare us, we're a lot lower than (other Montessori schools). My job in development is to try to make up the extra money needed."