School News: Head of school at The Summit announces retirement plans
After more than 12 years leading The Summit Country Day School community, Head of School Rich Wilson will retire in June 2022. The board of trustees has named a senior member of the school's leadership team, Kelley Schiess, as Wilson's successor. Schiess currently serves as the Assistant Head of School for Enrollment Management and Community Engagement and has led admission efforts at The Summit for the past 19 years.
"Rich has been, and continues to be, an outstanding leader and a person of character. Or Summit is in a position of tremendous strength as a result of his skilled financial acumen and management," said Allison Kropp, chair of The Summit's board of trustees. "The board and I are thrilled to welcome Kelley Schiess as the new head. Throughout her time at The Summit, Kelley has demonstrated a strong work ethic, and a deep love, passion, and commitment to our school. She understands our special Summit culture and she embodies the Summit core values of excellence, respect, grace and care."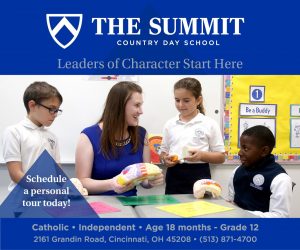 In introducing the transition, Wilson said, "I am thrilled that the Board has chosen Kelley to assume leadership of the school going forward. Having worked very closely with her over my time at The Summit, I've had a front row seat in observing her considerable leadership and managerial skills. She has the motivation and drive to push the school forward and inspire others to join her in doing so. I believe the board has made a wise decision in choosing Kelley as the next head and I look forward to working closely with her in the coming year to ensure a smooth transition."
Wilson was a trustee from 2004-2010 until he was selected as the interim head of school. He was appointed head in 2011 after a nationwide search.
Under his leadership, a $9 million renovation was undertaken in 2015 to increase classroom space in the Upper School and provide state-of-the-art science laboratories in the Middle and Upper schools. He has increased funds for professional development of the faculty and staff, revamped the school's character education program, added a social skills program, and improved the school's diversity by increasing enrollment of children of color and international students. He also led the development and execution of innovative signature programs like the unique-to-Cincinnati Schiff Family Science Research Institute and Homan Center for Entrepreneurial Leadership.
During his tenure, Wilson worked to ensure a secure financial foundation for the school, lending his business expertise to fundraising campaigns. Under his leadership school debt went from $10 million to zero, the annual fund grew 49% and the endowment fund grew 121%. He is currently shepherding the final stages of the Leading the Way comprehensive campaign which focuses on support for academic initiatives in leadership and creative problem-solving.
Established in 1890, The Summit Country Day School at 2161 Grandin Road serves students ages 18 months to grade 12. A Catholic, coed, independent school, The Summit stands on five pillars of education: academic, spiritual, physical, social and artistic.