School News: Lehman Catholic crowns homecoming King and Queen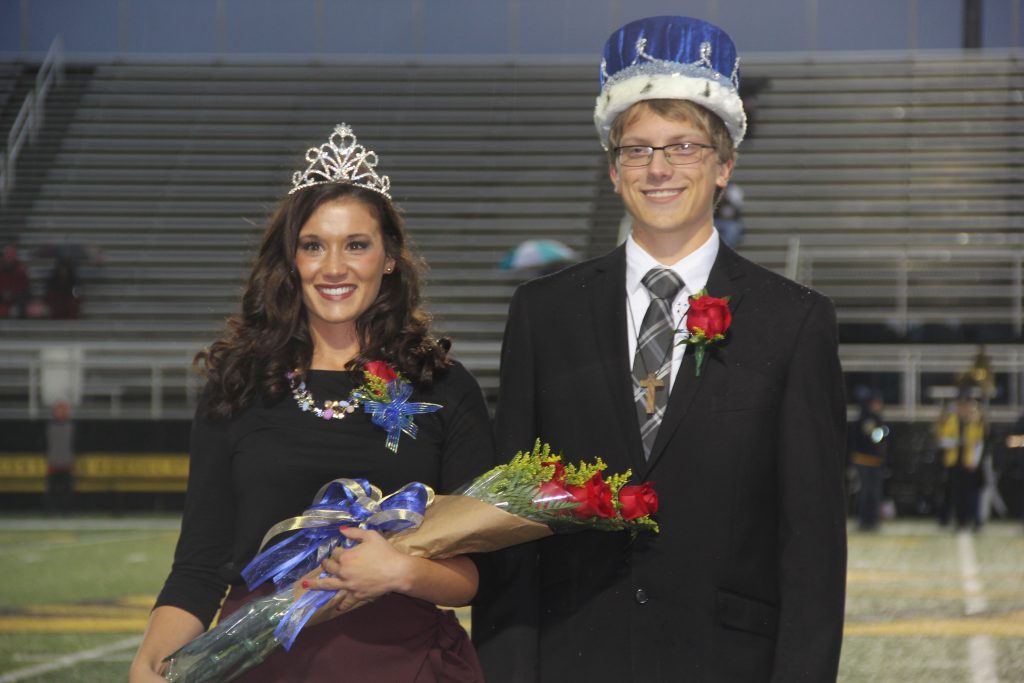 SIDNEY, OH | October 17 – Lehman Catholic High School alumni, family and friends gathered at Sidney Memorial Stadium to celebrate Homecoming. The evening commenced with pre-game ceremonies including the traditional Homecoming parade followed by the introduction of this year's Homecoming Grand Marshall Leah Bertke, Principal/CEO Denise Stauffer, the members of the Homecoming court, followed by crowning of the queen and king.
This year's Homecoming queen is Samantha Edwards, daughter of John and Heather Edwards, from Sidney and Homecoming king is Elias Bezy, son of Paul and Bree Bezy from Sidney.
After the parade and crowning, the alumni band joined the student band for pre-game. The National Anthem was performed by the Lehman Catholic Limelighters & Gold Standard A Cappella Groups, followed by the kick-off to the football game between Lehman Catholic High School and Upper Scioto Valley High School.
There was a special halftime salute to the coaches and players who were part of the Volleyball State Runner-Up and Championship Teams from 1993, 1998, 2000, 2002, 2005 and 2010. More than 25 alumni and coaches were recognized.
---
About Lehman Catholic High School
Lehman Catholic High School is the only state-chartered, Roman-Catholic comprehensive institution that provides secondary education for the students of Auglaize, Darke, Logan, Mercer, Miami and Shelby Counties in West Central Ohio. The school is dual accredited by the North Central Association Commission on Accreditation and School Improvement and the Ohio Catholic School Accrediting Association.