Sede Vacante: The seat is vacant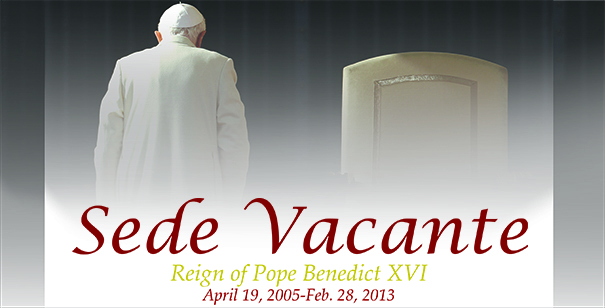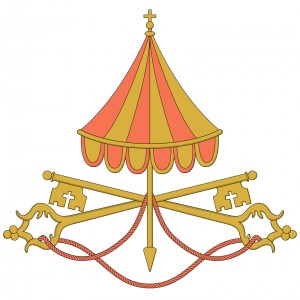 UPDATE: For more up to date information, visit Conclave Central.
Effective Thursday at 2 p.m. Eastern, 8 p.m. in Rome, the papacy of Benedict XVI came to an end. With that, the Catholic Church entered a period of sede vacante. Sede vacante is Latin for "the seat being empty" and refers to the Chair of Peter being unoccupied until the election of a new pope.
Soon the College of Cardinals will announce the pending start of a conclave where those Cardinal-electors under the age of 80 will gather and vote, under the guidance of the Holy Spirit, for a new Supreme Pontiff to guide the 1.25 billion-member Catholic Church.
His Holiness Benedict XVI, Pope Emeritus, left the Vatican for Castel Gandolfo prior to his abdication. In his final public remarks as pope, acknowledged the pending end of the 265th papacy in the history of the Church. He will live at Castel Gandolfo until a monastery within the Vatican is completed.
"You know that today is different from others," he told the crowd from the window of Castel Gandolfo. "As of 8 p.m. I will no longer be the Supreme Pontiff of the Holy Roman Church. I am a pilgrim who is begining the last part of his pilgrimage on earth."
A prayer for the election of a new pope
O God, eternal shepherd, who govern your flock with unfailing care, grant in your boundless fatherly love a pastor for your Church

who will please you by his holiness and to us show watchful care.

Through our Lord Jesus Christ, your Son, who lives and reigns with you in the unity of the Holy Spirit, one God, for ever and ever.

Amen. 
Sede Vacante Central More on Pope Benedict XVI's resignation:
Sede vacante in the digital age Archbishop Schnurr celebrates mass for the election of the pope [Video] Cardinals summoned to Rome as Pope Emeritus begins new life Twitter account @Pontifex has tweets deleted, Benedict XVI's coat of arms taken off Vatican website Final Address: Pope going from humble servant to simple pilgrim Father Ruiz gives his perspective on Pope Benedict XVI's final General Audience [Video] Young Cincinnati Catholic experiencing Rome during historic time Archbishop Dennis M. Schnurr offers mass for Pope Benedict XVI [Video] Official Title for post-resignation pope revealed Changing rules, pope allows cardinals to move up conclave date Pope asks continued prayers in these 'unusual' days for church Commentary: So God Made a Pope Commentary: The Catholic Moment — The Legacy of Pope Benedict XVI Citing health, Pope to resign Cincinnati Archbishop Dennis M. Schnurr releases statement on papal resignation CNS Video: See the pope announce his resignation Women religious respond to news of pope's resignation