Twitter account @Pontifex has tweets deleted, Benedict XVI's coat of arms taken off Vatican website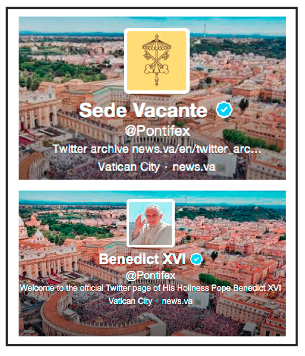 By John Stegeman The Catholic Telegraph
When the papacy of His Holiness Benedict XVI, Pope Emeritus, ended at 8 p.m. Rome time Thursday, immediate changes took place in the digital realm. When the doors were closed at Castel Gandolfo, the 39 tweets sent out by Benedict XVI as @Pontifex were deleted. In addition, the Vatican website immediately removed Benedict XVI's image from the homepage, replacing it with the Vatican's Coat of Arms during a period of sede vacante.
While the @Pontifex tweets were deleted from Twitter, they remain for posterity. The Vatican website has set up a Twitter archive for the tweets of Pope Benedict XVI. There, all 39 can still be read, including his final tweet (seen below).
Though he was only active on Twitter from Dec. 12, 2012 to Feb. 28, 2013, Benedict XVI made history. Nearly a year before starting his own Twitter account, he became the first pope to tweeted from the Vatican News account. His own handle amassed roughly 1,612,000 followers on the English language account by the time of his abdication. His total followers on Twitter were nearly 2.5 million.
The Vatican has said that future of the account is up to the new pope. Should he wish, he will be able to take over the @Pontifex handle.