Seek the Lord by Archbishop Dennis M. Schnurr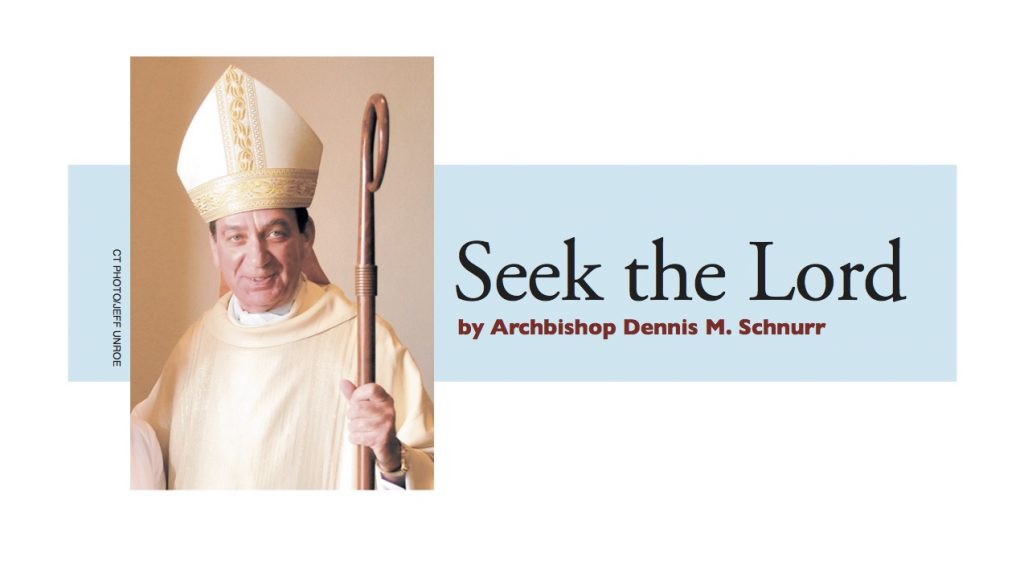 Later this month, more than 40,000 students will begin a new school year at the 110 Catholic schools in the Archdiocese of Cincinnati. That simply could not happen without the generous support of thousands of people.
Most obviously, many parents must sacrifice to pay for their children's tuition because they have chosen to send them to a Catholic school.
Teachers in Catholic schools, for their part, generally accept lower salaries than their public school counterparts. They do so because they recognize, as the Church recognizes, that their teaching is an important ministry. I am grateful to all of our dedicated teachers who have accepted this challenging vocation.
Parishioners also provide crucial moral and financial support to their parish schools, whether they currently have children enrolled there or not. Through their donations to the parish in the Sunday collection and other ways, parishioners make up the gap between what the school charges parents and the actual cost of educating a child.
Alumni, parents and other open-hearted individuals also support Catholic education in diverse ways – as boosters, committee members, board members and generous donors to individual schools or to campaigns supporting schools. In Cincinnati, for example, CISE (the Catholic Inner-City Schools Education Fund), which assists nine urban schools, raised $3.3 million in the campaign that ended Jan. 31. And the archdiocese's One Faith, One Hope, One Love campaign was able to offer over $2 million in tuition grants to more than 2,000 students for each of the last two school years.
So many people invest so much in Catholic schools because they see the high value of Catholic education, and because they know that it is an investment that will pay off for both the students and for the community.
The excellent academic quality of our schools is well known, even attracting a substantial number of non-Catholic students. Over 99 percent of students in Catholic high schools in the archdiocese graduate, and nearly as high a percentage go on to college. Our ACT scores are in the top 25 percent nationally. And our Catholic elementary school students typically test one to three grades higher than other students on Iowa standardized tests.
That fine record is not, however, the primary reason for choosing Catholic education. As the sign displayed in many of the schools in this archdiocese proclaims, "CHRIST is the reason." That means much more than required classes in religion, although learning about the faith is essential. Fundamental to our schools are the Christian values that permeate each classroom – values such as self-control, care for others, perseverance, courage, compassion and a commitment to social justice. As an outgrowth of what we could call "the Catholic difference," Catholic high school students in the archdiocese collectively perform more than 160,000 service hours each year.
Catholic schools exist to support the role of parents as religious educators of their children, not supplant it. As the Vatican II document Lumen Gentium states: "In what might be regarded
as the domestic Church, the parents, by word and example, are the first heralds of the faith with regard to their children." That responsibility cannot be delegated away, not even to Catholic schools. The role of the schools – and of Parish Schools of Religion for Catholic students who attend public schools – is to reinforce the faith life modeled at home. That is an important role indeed.
Catholic education in the Archdiocese of Cincinnati began 195 years ago when Bishop Edward Fenwick opened our first Catholic school with 25 female students. All these years later, Catholic schools remain beacons of light in a dark and troubled world. In the 2019-20 school year, may all our students stay safe, learn much, help others and grow in their faith.