Seek the Lord: September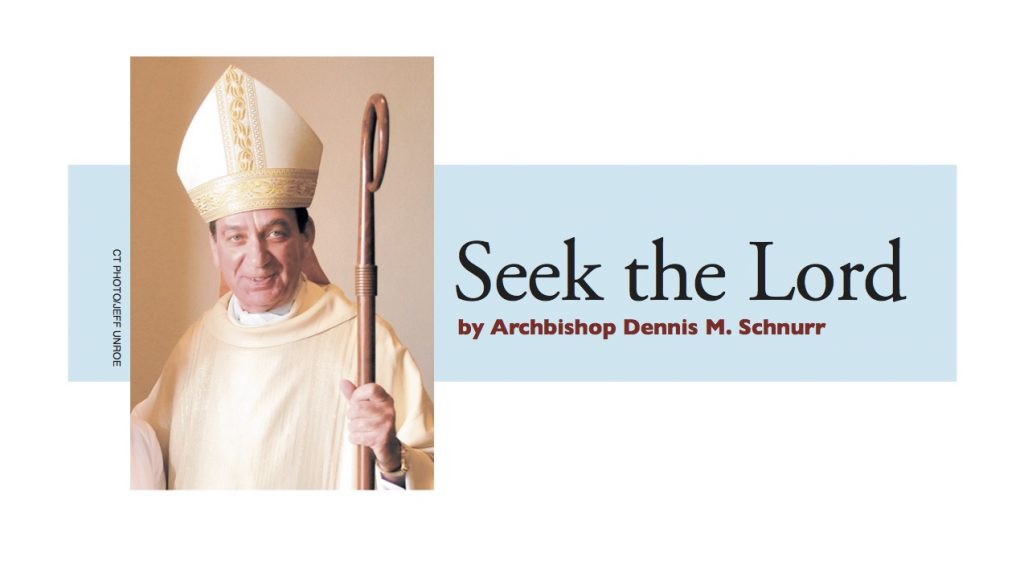 Summer is most associated with vacation and fun activities. Perhaps it is appropriate, then, that the unofficial end of summer is a holiday that celebrates workers – Labor Day. The Catholic Church, which honors St. Joseph the Worker with a feast day on May 1, has a good deal to say about work. 
     The documents of the Second Vatican Council, and papal teaching from Pope Leo XIII's landmark "Rerum Novarum" in 1891 to Pope Francis's "Laudato Sí" in 2015, all agree on certain basic principles: The economy must serve people, not people the economy. Work is fundamental to human dignity and a way by which humans participate in God's creation. Workers have the rights to productive work, to decent and fair wages, to organize and join unions, to economic initiative, and to own private property.
     "Laudato Sí"is an encyclical about the environment, "on care for our common home." But it also has a section called "The Need to Protect Employment."  
     "We were created with a vocation to work," Pope Francis writes. "The goal should not be that technological progress increasingly replace human work, for this would be detrimental to humanity. Work is a necessity, part of the meaning of life on this earth, a path to growth, human development and personal fulfillment. Helping the poor financially must always be a provisional solution in the face of pressing needs. The broader objective should always be to allow them a dignified life through work" (LS 128).
     On this Labor Day, we are blessed in the United States with a relatively low unemployment rate. Still, some people have been left behind. Even in a strong economy, one's ability to find work can be hampered by insufficient education or training, failure at previous jobs, poor work habits, or a history of incarceration. Locally, nationally, and globally, the Catholic Church strives to increase employment opportunities, especially for these hard-to-place persons.  
      Through the Catholic Campaign for Human Development (CCHD), the Archdiocese of Cincinnati has a decades-long history of supporting organizations and agencies which offer jobs and hope for such persons. 
     CCHD-funded organizations supply training and job placement to adults with chronic barriers to employment, provide support and services that lead to employment and self-sufficiency for returning (formerly incarcerated) citizens, work to win back wages wrongfully withheld from employees ("wage theft"), and train young men in construction skills while allowing them to earn an income.  
     These enterprises improve the lives of workers in concrete ways. I am very grateful to the faithful whose generous contributions to the CCHD have helped make many success stories possible over the years. At the same time, we must never forget the spiritual dimension of work. Someone who was well acquainted with both physical labor and its spiritual value was St. John Paul II. As a young man in Nazi-occupied Poland, over a four-year span, he held jobs at a restaurant, a limestone quarry, and a chemical factory. During part of this time, he was also studying for the priesthood in a secret seminary.   
      At the end of his encyclical on work, "Laborem Exercens," St. John Paul says: "Let the Christian who listens to the word of the living God, uniting work with prayer, know the place that his work has not only in earthly progress but also in the development of the Kingdom of God, to which we are all called through the power of the Holy Spirit and through the word of the Gospel" (LE 27).
     Let us pray that all who seek fulfilling work will find it, and that all workers will be treated with the dignity they deserve as participants in God's work of creation.