Seminary displays chalices of men to be ordained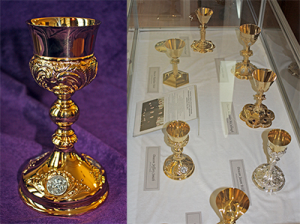 Each year, the Athenaeum of Ohio's Maly Library displays chalices belonging to the men of Mount St. Mary's seminary who will soon be ordained to the priesthood.
This year, seven men from the seminary will be ordained priests for the Archdiocese of Cincinnati, and three others will be ordained elsewhere. The Archdiocese of Cincinnati ordination will be May 21 at the Cathedral of St. Peter in Chains.
Library Director Connie Song looks forward to creating the exhibit and says the chalices are magnificent and meaningful.
"I enjoy hearing the stories of how the seminarians acquire their chalices; several have interesting histories. Some chalices have a simple beauty and others are quite ornate," Song said. "I am excited for the men being ordained and what it means to them after being here for so many years."
Several seminarians shared the story of how they acquired their chalices.
For the full story, visit Mount St. Mary's Seminary website HERE.