Throwback Thursday: Students prep for first communion with 'Mass'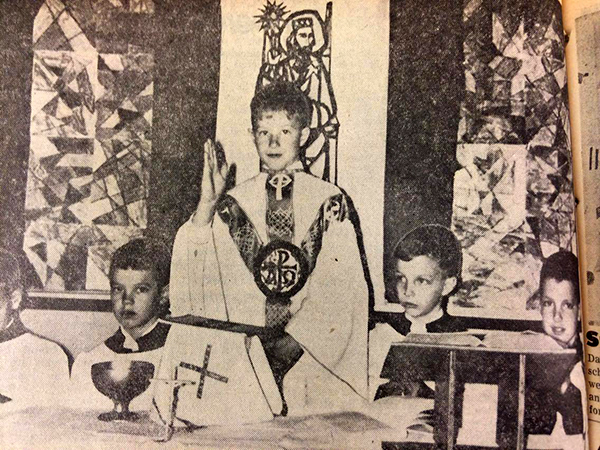 Springtime is here with all that means. The Easter season continues, pollen counts are high, and thousands of young boys and girls are preparing to meet Jesus Christ in their first reception of Holy Communion.
Since the spring doubles as "first communion season," today's Throwback Thursday highlights the second graders of Our Lady of Mercy School in Dayton from 1966. The photos and information come from the April 1, 1966 edition of The Catholic Telegraph.
In preparation for first communion, the students held a practice 'mass.' Students fulfilled the roles of priest, servers, lector and worshippers, including at least one young girl who dressed as a religious sister.
The students also participated in a dramatization of the Last Supper, with student Clark Monroe portraying Christ.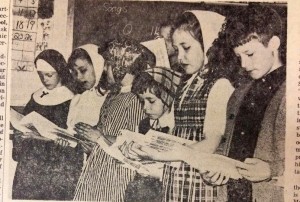 Monroe also played the role of the priest in the practice "mass," distributing unconsecrated hosts to his classmates.
The demonstrations were based in montessori education methods, which were making a resurgence in the U.S. during the 1960s. The methods stress participation of the students and user of their particular talents.
The students were taught by Sister Mary Joseph and Sister Marca of the Third Order Regular of St. Francis.
Welcome to The Catholic Telegraph's edition of Throwback Thursday. Throwback Thursday is a weekly online feature wherein users of social media share an old photo or anecdote about times gone by. We use Throwback Thursday to highlight the history of the Archdiocese of Cincinnati, and our publication.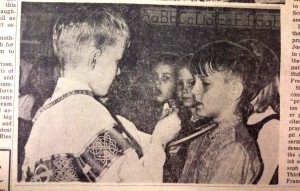 Recent Throwback Thursdays
A Christian marriage pledge
Festivals a mark of faith and fun
Holy Week 2016 in Review
Clergy gather at Chrism Mass
Consider getting the print edition