Seniors, youth learn through Council for Life Long Engagement
May 2, 2012
By Eileen Connelly, OSU
Whether a guest speaker in period costume is sharing her ancestors' experiences during the Civil War or a retiree is giving a group of students a hands-on lesson in recycling, the emphasis is on enrichment and learning from each other.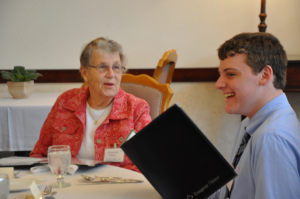 That was Laura Lamb's goal in establishing the Council for Life Long Engagement (CLLE). The parent of students at Nativity of Our Lord School in Pleasant Ridge and the vice president of residential housing and healthcare for Episcopal Retirement Homes, Lamb started the CLLE as a pilot program in the fall 2010 to eliminate the negative impact of ageism by creating opportunities for residents of their facilities to share their expertise and interests with youth.
"Children are learning first-hand from elders who have lived rich and rewarding lives," she said. "They are making history, science and even math come alive through their experience and wisdom."
Lamb hopes to create a model program that can be replicated in other communities around the city and around the country in an effort to enrich lives, not only of students, but of older residents. Her ultimate goal: eradicate ageism, which studies have shown can result in shortened not only quality of life, but life itself. Since the presentations began, both the seniors and the students have enjoyed the interactions, she said, and the program has expanded to include other Catholic schools, including St. Mary in Hyde Park and Mount Notre Dame High School.
One of the most recent CLLE activities involved a group of residents from Deupree House, a senior community in Cincinnati, and Nativity eighth graders. Margo Fisher-Bellman, a language arts teacher at Nativity, realized that many of the rules of dining etiquette were being lost and recognized that having such tools could be beneficial to her students in terms of creating a good first impression, and even future career advancement. It turned out to be an ideal project for the CLLE.
Three Deupree House residents visited Nativity to give a "Manners 101" class complete with an etiquette guide for each student. The seniors shared some of their own experiences, along with the ins and outs of dining etiquette. In addition, the students had the opportunity to set a "fancy" place setting. The classroom session ended with CLLE's version of "Family Feud" called "Polite or Rude."
A few days later, 50 Nativity students donned their dressy attire and arrived at Deupree House for a formal luncheon with the seniors. More than 15 residents volunteered to dine with them. At each table was a deck of conversation starters on topics such as pets and traveling to facilitate interaction between the two groups. They chatted and laughed over a 3-course meal, complete with white tablecloths.
Feedback from the seniors, students and their parents was positive, Lamb said, "The residents were so positive. They said, 'We don't have anything to worry about with this next generation. They're good kids.' And, the parents were so grateful for the tangible opportunity for their children to learn," she said. "For the students, it was a fun chance to interact with and learn from the seniors."
The CLLE is "really changing the stereotypes that that elders have of seniors and the children's views of their elders," Lamb added. "They're learning so much from each other."
"In working with the CLLE, students learn the approachability of elders; they no longer see them as fundamentally different from themselves and ultimately the students want to know more about them," Fisher-Bellman explained. "They like to listen to their life experiences and are often amazed by all the elders have seen and done. The relationship between Nativity and the Council for Life Long Engagement is invaluable and incredibly unique. We are very fortunate to have made this bond and our students' lives are wholly enriched by the experience."