St. Margaret Hall celebrates 50th anniversary
May 3, 2012
By Patricia McGeever
The Carmelite Sisters of the Aged and Infirm bring Christ to everyone who is under their care. For the last 50 years they've been bringing Him to the residents of a yellow brick building on Madison Road in O'Bryonville.  The congregation runs St. Margaret Hall, a nursing home and assisted care facility that is celebrating its Golden Jubilee this year.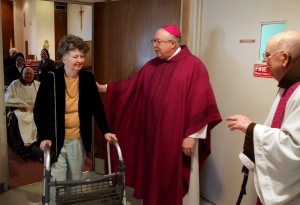 "Our foundress, when she founded us would say, 'Christ is in each person who comes to us and we serve each person as if it were Christ in person,'" says Sister Rosemary Rubocki, assistant administrator.
St. Margaret Hall is one of 20 facilities across the country, including one in Dublin, Ireland, that's operated by the Carmelite order. It opened in 1962 after a special request from the archdiocese.
"Our charism is to identify the needs of the aged, that would be spiritual, personal and social," says Sister Rosemary explained. The foundress of her order, Mother M. Angeline Teresa was ahead of her time when it came to her life's work. "The whole field of gerontology didn't come in until the '50's." Mother Angeline began her work caring for the aged in the 1920's.
As part of the 50th anniversary celebration, Auxiliary Bishop Joseph R. Binzer has been to the facility to say Mass. He stayed for lunch then visited with many of the residents who couldn't make it down to the chapel for daily Mass.
"It was a very special day for them," Administrator Janet Murphy said. "He had something to talk about with each one of them." She adds that the residents, "felt so honored."
The average age of residents there is 88. "We provide care for those with dementia and other medical illnesses. We have an excellent rehab department and we do a very good job of getting people back home after rehab," said Murphy.  "We have a tradition of quality care, caring staff, and a spiritual environment."
St. Margaret Hall is rated as one of the best facilities in Ohio by U.S. News and World Report. The Centers for Medicare and Medicaid rate it as a 5-star facility. This nursing home also has something no other in the area has, a convent on site. It houses the five Carmelite sisters who help care for the 106 residents.
The facility plans events and throughout the year so the residents can participate. The annual festival on September 30 will also have an anniversary theme to it.
An anniversary Mass and reception will be held October 14 with Bishop Binzer presiding.