September's The Catholic Telegraph to reach homes this week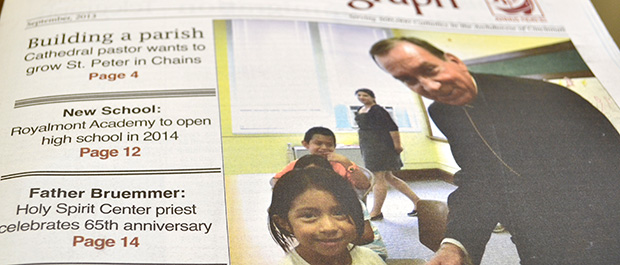 Staff Report
The September issue of The Catholic Telegraph should be hitting mailboxes Thursday, August 29.
Here are some of the highlights of the September issue:
— Father Barry Windholtz, pastor of The Cathedral of St. Peter in Chains, wants to build a parish community at the historic church that is also the cathedra of our bishop. (Page 4)
— Father Earl Fernandes' Question of Faith column centers on whether or not one can attend an SSPX church in the event of a friend's wedding. (Page 7)
— Archbishop Dennis M. Schnurr visited the Su Casa Hispanic Center on Aug. 7. His visit provided the cover art for this issue. (Page 9)
—The Family Life Activities page suggests "Tailgating with Christ" and using pretzels to teach the Trinity. (Page 18)
— A special section takes a look at Labor. (Page 20-23)
— Your favorite columnists — Father Kyle Schnippel, Michael Daley and Jean Hunt — return for another issue.
— News from the USCCB, Vatican, obituaries & more.
The Catholic Telegraph is a monthly publication provided to parishioners of the Archdiocese of Cincinnati at no personal cost. To begin receiving The Catholic Telegraph by mail, please call 513-421-3131 extension 2215, or email [email protected].