Serving Beyond Borders: St. Xavier Students Continue to Reach Out to Those in Need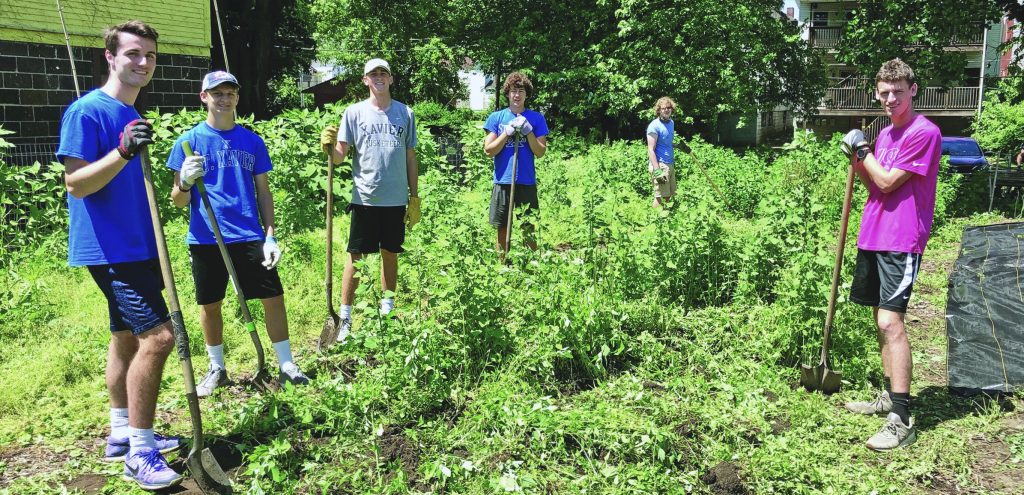 by Ellen Gormley
In 2019, St. Xavier High School students served on 12 mission trips around the U.S. and Costa Rica. While COVID-19 led to the cancellation of all 2020 summer mission trips, students and community service director, J.K. Klaiber, continue to innovate in creating service opportunities for students.
Students serving others in the classroom, in their homes, in the community and beyond is a hallmark of becoming "men for others." They continue to serve neighbors in individual efforts and group efforts both in person and online.
Aidan Finn and his sister started an online tutoring service called Tutor Teens, where high schoolers across the city help students in grades K-8 study. They launched in April and have gained national recognition for their innovative service to others. Their website is tutorteens.com.
On June 12, more than 25 students distributed fresh produce boxes and milk to neighbors in need in an efficient, contact- less drive-thru in conjunction with Catholic Charities of Southwestern Ohio. In all, 1,408 boxes of produce and 2,700 gallons of milk, provided by Borden, were distributed.
St. Xavier High School senior, Jeffrey Hecht, participated in the drive-thru food distribution. "Many of our service opportunities were canceled through the summer due to COVID-19, but today we have partnered with the Freestore Foodbank, Su Casa, the USDA and Catholic Charities to give fresh food to families in need," he said.
St. Xavier has plans to send students to West Virginia and Tennessee to assist neighbors in rural areas as long tas they can manage the risk of COVID-19 through physical distancing and masking.
This article appeared in the October edition of The Catholic Telegraph Magazine. For your complimentary subscription, click here.