Serving on and off the Court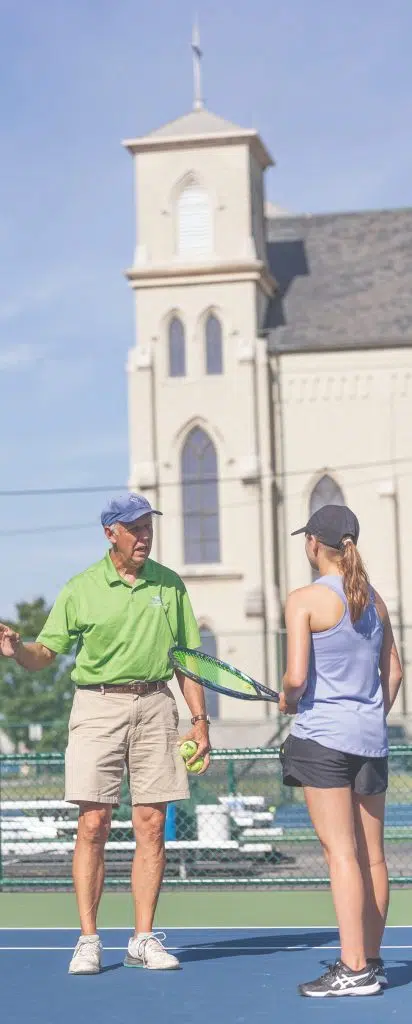 That's a phrase anyone who meets Jim Brooks will likely hear, no matter the weather or conditions. Brooks sees this as an uplifting mindset.
"We should all fill in the blank: 'It's a great day for' because it truly is great to be alive, to live for and love others in their uniqueness, and realize the goodness of the great God," he said.
For nearly 25 years, Brooks has been a staple on the tennis courts of Chaminade Julienne (CJ) Catholic High School, first as a coach for the boys' team in 1998, then as the girls' team head coach. Recognized throughout the years with many honors, he received the Greater Catholic League Tennis Coach of the Year (multiple times for both boys and girls tennis) and was named to the Miami Valley Tennis Coaches Hall of Fame, Ohio Tennis Coaches Hall of Fame and CJ Athletic Hall of Fame.
However, Brooks is quick to add, "Coaching awards and accolades are largely a result of the accomplishments of the players on coaches' teams. Because our players have had success at certain times, awards sometimes follow. It is also the case that if they stick around long enough, people recognize what coaches do. I am one of those fortunate guys."
His legacy is well beyond the court, though. He joined the Marianists in the late 1970s and took his first vows in 1980, the same year he started teaching English at CJ. He left the order in 1985, and later married Peg Regan, another teacher at CJ. They now have two daughters, Colleen and Carmen.
While the couple retired from teaching, Brooks continues to live out his passions of coaching and mentoring.
"My faith is and needs to be an integral part of coaching," he shared. "Working with young people is a privilege that any and all coaches must treasure. We are there to serve them, and they often inspire us with their kindness, their work ethic, their desire to learn and their faith."
Brooks noted ways he and the athletes live out their faith on and off the court, through prayer before matches, beginning the season with an hour-long prayer service and volunteering "There are more important things in life than hitting a ball over a net," he said. "The simple act of hitting a ball over a net, though, can be a springboard for life lessons about character, confidence, work ethic and patience. Trusting yourself—and your doubles partner—on the courts is a concept that for me is related to trusting in God and the talents He has given us to develop."
"God should be at the center of our lives and should influence all of our relationships," said Brooks. "A team is a small community whose members support each other through thick and thin. A coach can model that behavior, praise those athletes who do the same and help kids to keep things in perspective."
It's that same perspective that Brooks has when he shares that, "It's a great day for tennis."
This article appeared in the September 2022 edition of The Catholic Telegraph Magazine. For your complimentary subscription, click here.