Seven Stations for Cincinnati: A Roman tradition comes to Ohio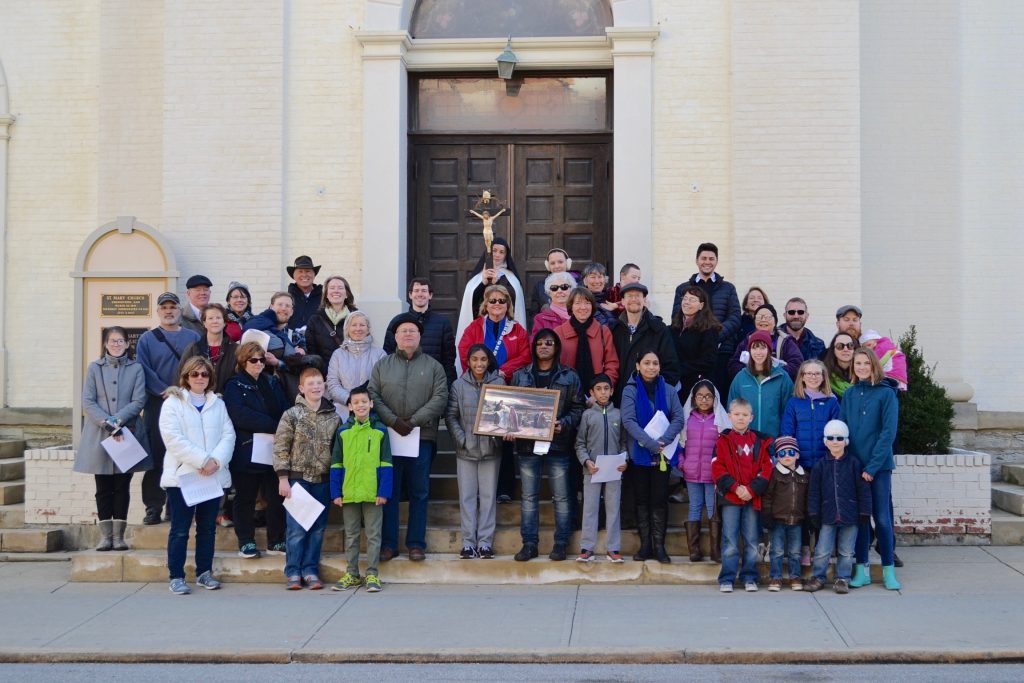 By Gail Finke
Dozens of people prayed and sang in the streets of Cincinnati on a chilly Saturday morning in March, recalling Christ's Passion and death with Scripture, reflections, and hymns. The second annual "Seven Stations Walk" sponsored by the Cincinnati Oratory brought a Roman tradition to Ohio on March 10.
St. Philip Neri began a devotion called the Seven Churches Walk in the mid-1500s. Devoted to the 16th-century of what is today called "the New Evangelization," the founder of the Oratory movement spent many of his days holding get-togethers, teaching classes, and even creating a new kind of concert (the "oratorio") to bring Catholics who were exhausted and disheartened by religious wars and corruption back to the church. The Seven Churches Walk was exactly the kind of thing the saint found that Romans of his day were hungry for, combining prayer with fellowship and activity. So popular that it was briefly banned, it is still popular today, especially with pilgrims. It also spread to countries around the world, where it is often celebrated after Mass on Holy Thursday. Wherever and whenever it is held, the walk is a variation of the Stations of the Cross, with each of the churches representing a "station" on the Way of the Cross.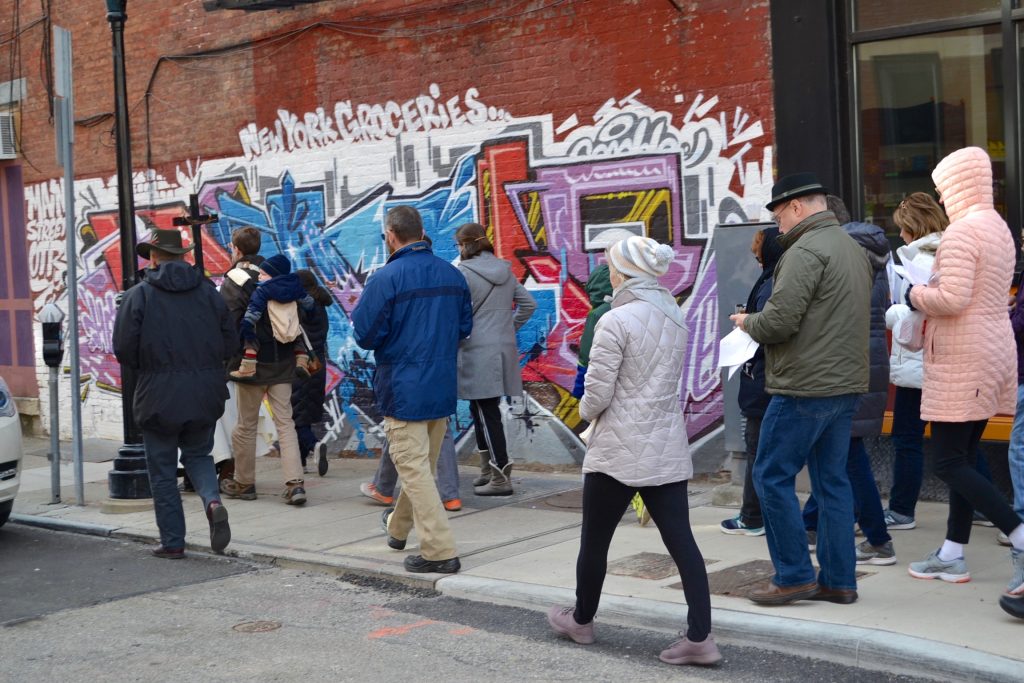 The Roman walk traditionally takes place on the Wednesday of Holy Week. St Philip and his companions would make a day of it, visiting Rome's four major basilicas and three of the most important minor basilicas. They would sing and pray as they went, and visit each each basilica for catechesis and to pray together. The trip was more than 10 miles, and included a rest for a picnic lunch.
Brought to Cincinnati last year, according to organizers, the walk local began and ended at Old St. Mary's Church in Over-the-Rhine, where Cincinnati's Oratory is based. Five of the stations chosen for meditations were Catholic churches and one (Verdin Co.'s Event Centre and Bell Museum) a former Catholic church; the seventh was the Hamilton County Courthouse.
This year Sister Marie-Cecile of the Daughters of St. Elias led the walk with Brother Brent Stull, a seminarian for the Oratory. More than 40 people took the two-hour walk and then, St. Philip Neri-style, shared a lunch together in the church hall.
While most traditional Seven Churches Walks include visits inside the sites, only the Cathedral of St. Peter in Chains was open for the pilgrims, who made a brief stop to rest and for adoration in the Eucharistic chapel. At the other six stations, the group assembled on the steps or on the outdoor plazas.
Sister Marie-Cecile said the Oratory hopes to make the walk an annual tradition.
For a gallery of photos, see our Facebook album.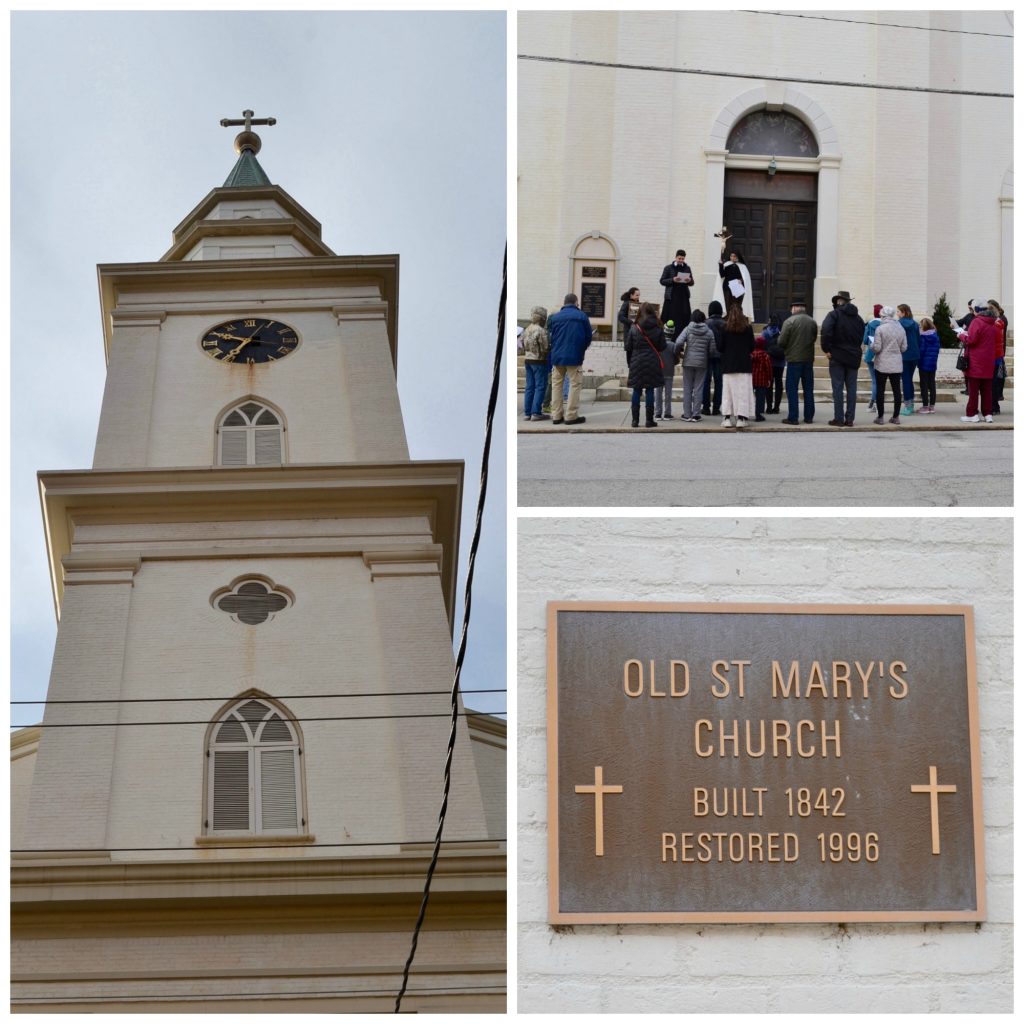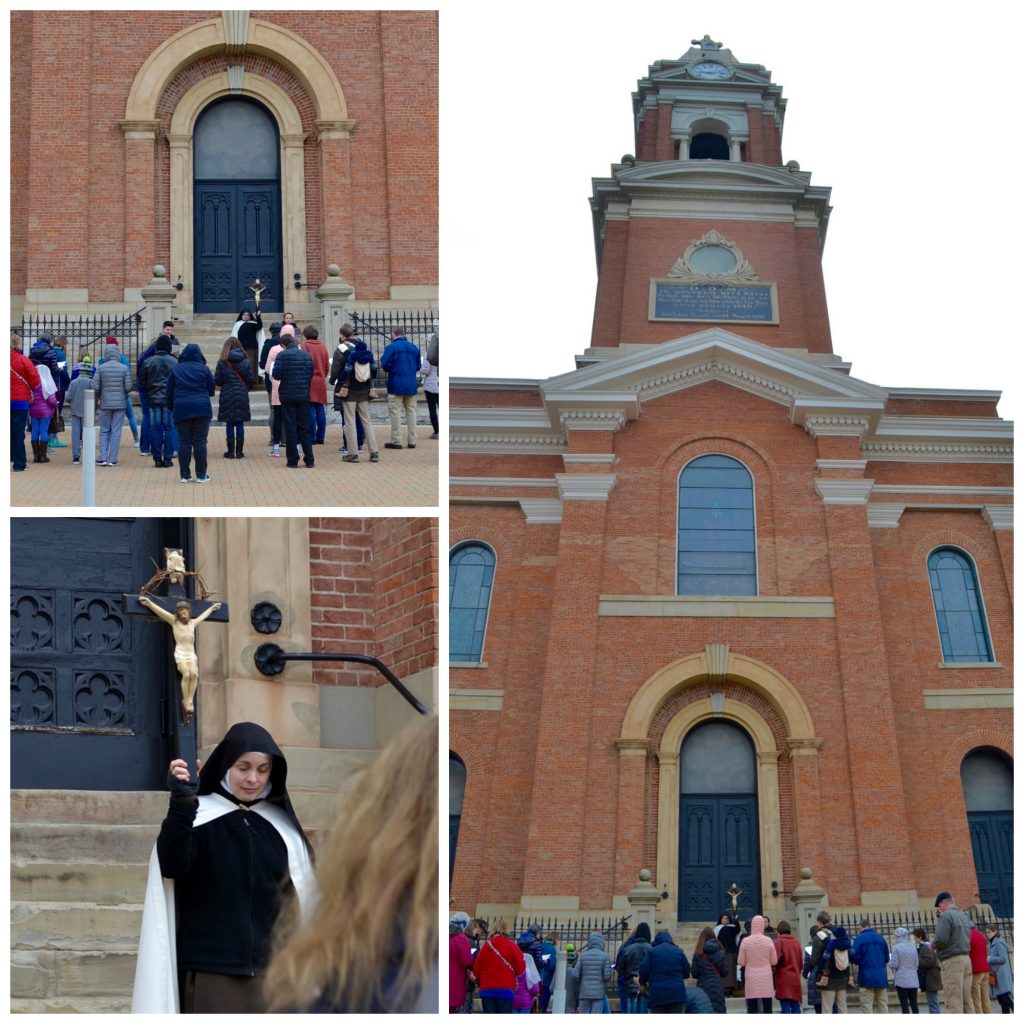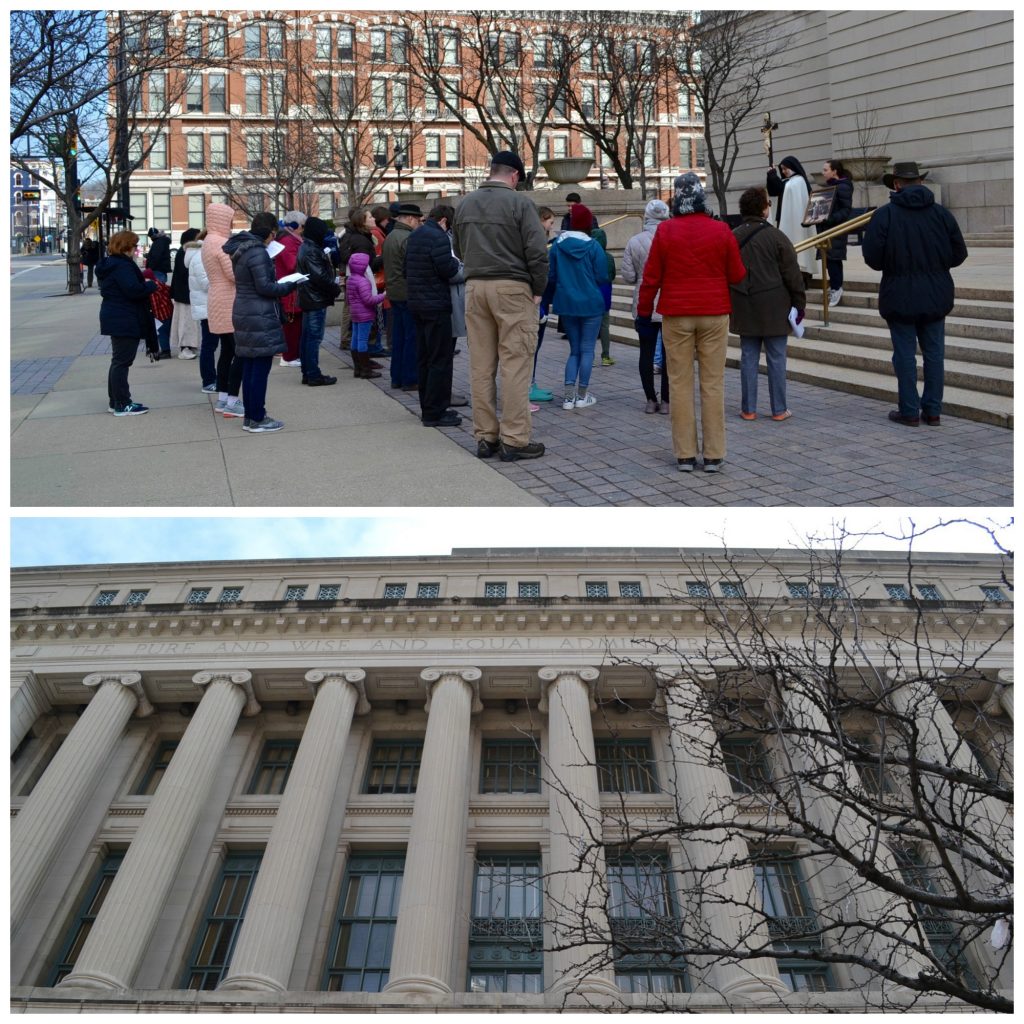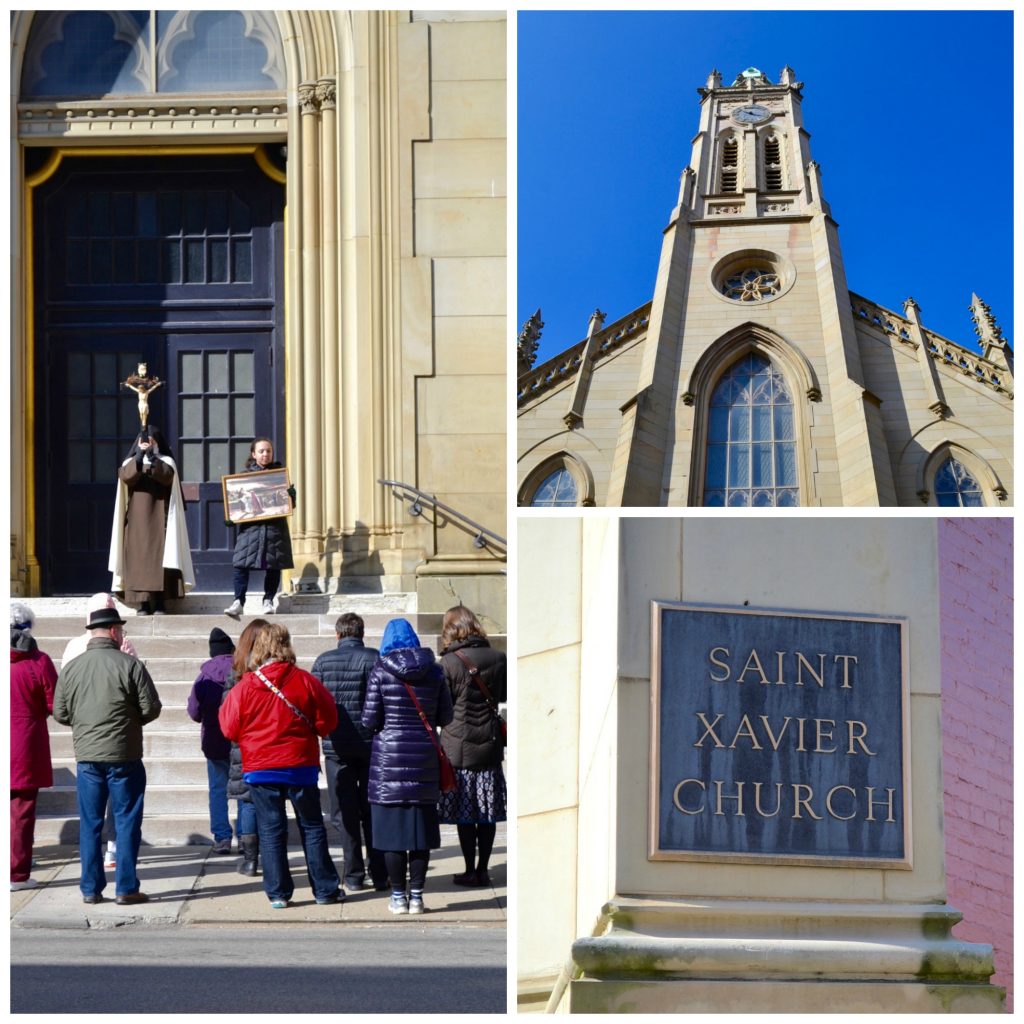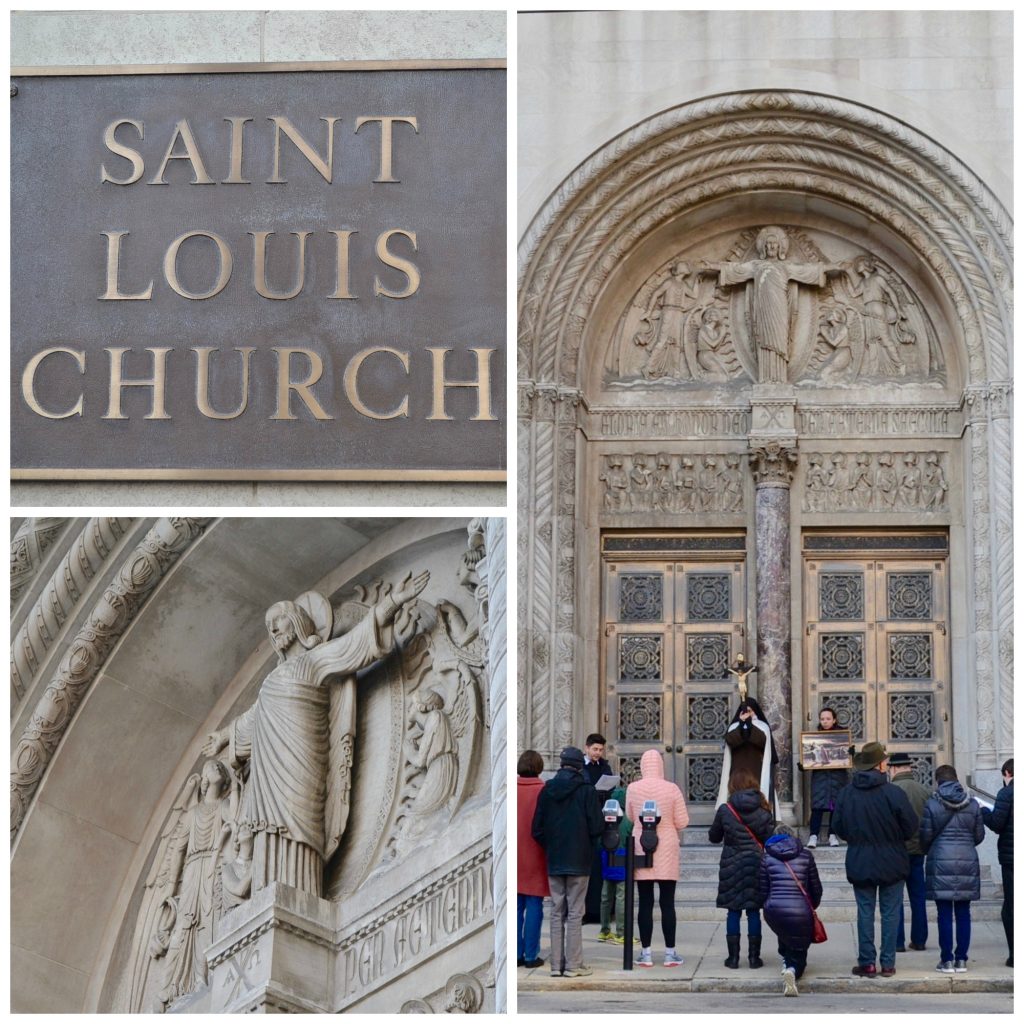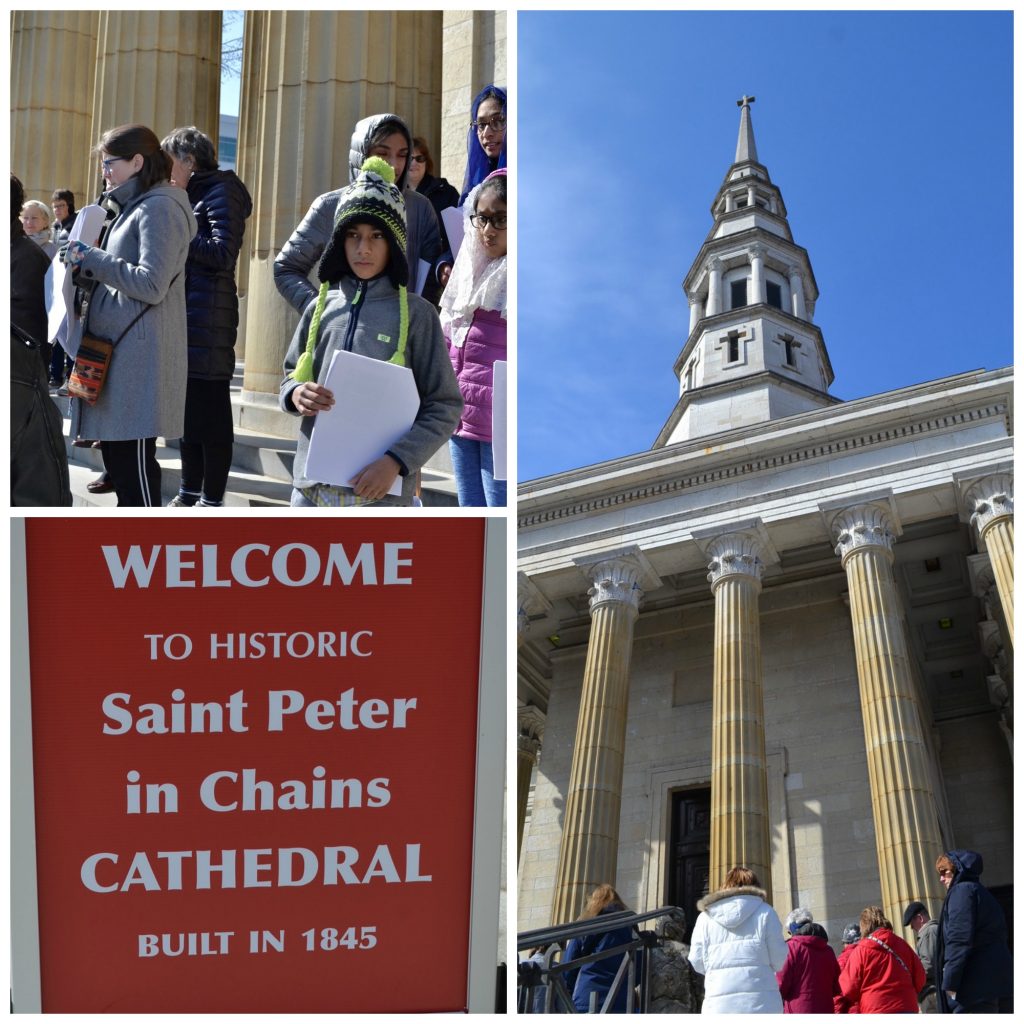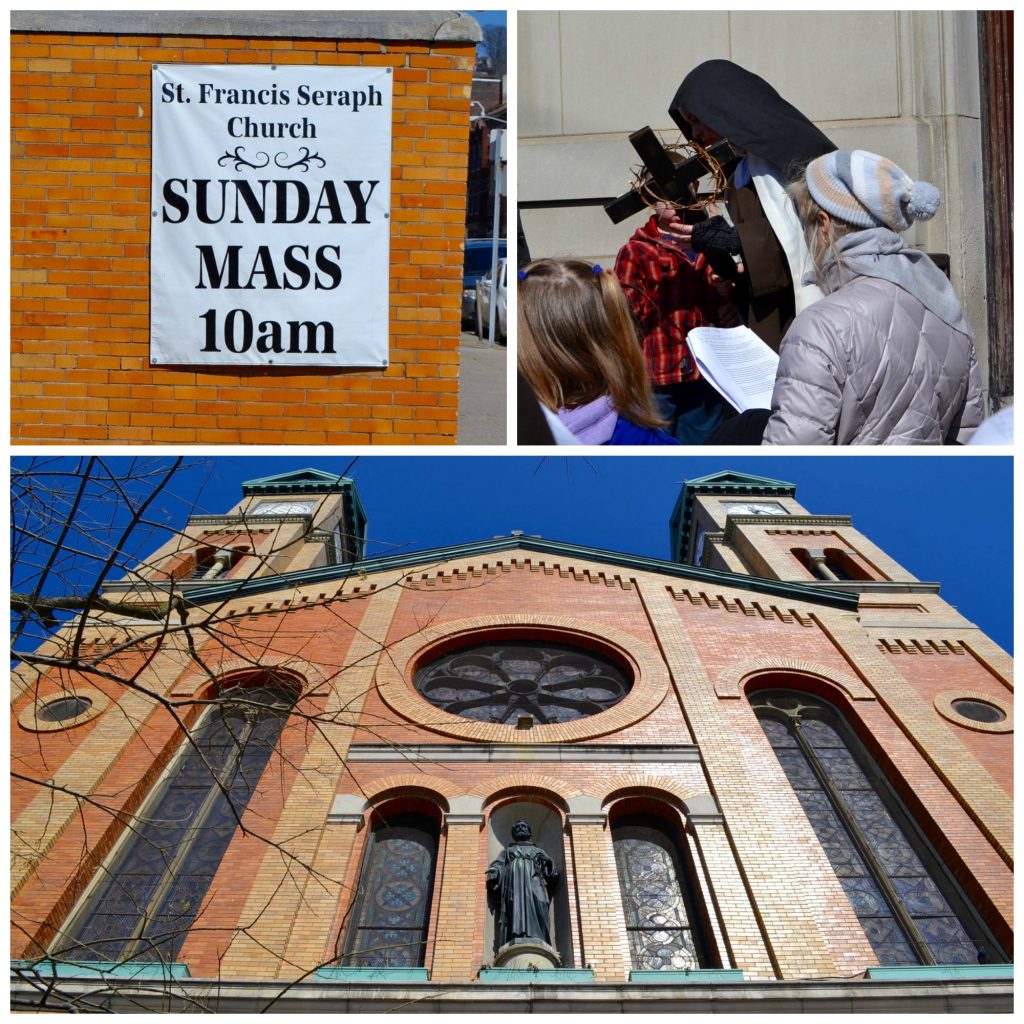 Station 7, Our Lord is Taken Down from the Cross and Placed in His Mother's Arms: St. Francis Seraph Church (CT photo/Gail Finke)